Two Unmanned Systems Wrap Up Shipboard Integration Testing
The US Navy's Littoral Combat Ship (LCS) Mission Module Program recently completed shipboard integration testing of two unmanned systems on board USS Independence.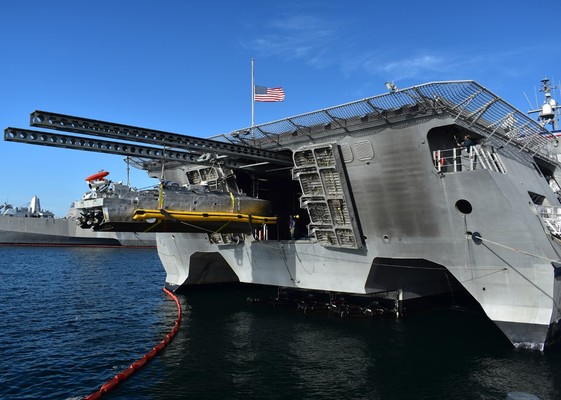 The two systems — the Knifefish unmanned undersea vehicle (UUV) and Unmanned Influence Sweep System (UISS) — are part of the Mine Countermeasures Mission Package (MCM MP), which uses a system-of-systems approach to target specific portions of the water column and segments of the MCM detect-to-engage sequence.
The two systems have been developed by General Dynamics and Textron respectively.
During these integration events, both the Knifefish and UISS successfully verified the communications link between Independence and the unmanned systems as well as executed multiple launch and recovery evolutions from the ship.
These test events mark a critical milestone for the LCS Mission Module Program, having now successfully tested each vehicle in the MCM MP (that is, an MH-60S helicopter, MQ-8B Fire Scout unmanned helicopter, UISS and Knifefish UUV) on board an Independence-variant LCS.