Update: Bow Jubail Moved to Rotterdam Yard for Repairs
The chemical tanker Bow Jubail has been moved to the yard in the Port of Rotterdam following the collision with a jetty, Odfjell said.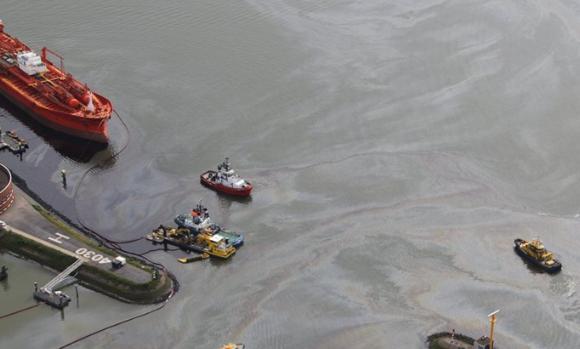 A class surveyor has attended the vessel for survey, and repairs will be conducted accordingly, the ship's operator added.
As informed, work is estimated to take about one week.
To remind, some 217 tons of heavy fuel oil (HFO) were spilled at the port after Bow Jubail made contact with the jetty and ruptured the hull on June 23. At the time of the incident, the 37,500 dwt ship was not loaded with cargo and there were no injuries reported.
By June 26, authorities in Rotterdam managed to recover some 150 tons of the oil spilled. The cleanup efforts are continuing and are expected to take at least several weeks, according to the Port of Rotterdam Authority.
Daily inspections are made throughout the affected area, together with representatives from the harbor masters and other stakeholders. The inspections form the basis for further cleaning, as explained by Odfjell.
What is more, HEBO, a specialist in controlling oil and chemical spills contracted to assist in cleanup efforts, has now supplied with extra resources to speed up the process further.
"In cooperation with Gard, HEBO, the Port of Rotterdam and other experts, we are doing our utmost to avoid further interruption to the affected terminals. Until the waterways are fully cleared for traffic, intermediate solutions will be sought to mitigate the consequences for the industries in the area," the company further said.
Odfjell, together with relevant authorities, is currently investigating the cause of the incident: "As part of Odfjell's cooperation with the external authorities to establish the relevant facts, our Incident Investigation Team is currently conducting a thorough inspection which in due time will determine the root cause. This team also includes independent external expertise."