UPDATE: Fire-stricken Fremantle Highway taken under tow, arrives at temporary anchorage
Towing of the Fremantle Highway, a pure car and truck carrier which has been burning off the Dutch coast for days, has been finally launched.
The car carrier was taken under tow on Sunday afternoon as the smoke from the vessel subsided considerably, Rijkswaterstaat, a government agency overseeing water management, transportation infrastructure, and environmental protection in the Netherlands, said in an update.
An additional towage line was put in place with two tugs starting to tow the stricken car carrier in a slow and controlled manner, going approximately 3 knots, 5.5 km/h.
Local salvage companies Multraship and Smit Salvage are undertaking the salvage operation.
Based on the latest update, after a 66 km journey, the vessel has been towed to a temporary location some 16 kilometers north of Schiermonnikoog and Ameland, where it arrived at 11.30 a.m. this morning. The vessel will remain connected to the tugs once at the new location, to keep the ship under control.
"The towing of the ship went without any problems. Due to the cooperating current during the second part of the tow, it was possible to sail faster than previously calculated. Smoke development from the freighter also remained minimal during the entire tow route," the agency said.
Activities are underway to anchor the vessel, and as soon as possible, board the ship to carry out an inspection.
Ameland, located in the Wadden Sea, a UNESCO World Heritage site, is part of the northern Wadden Islands, known for their ecological significance; hence, the potential oil spill from the fire-stricken car carrier poses a significant environmental risk.
Rijkswaterstaat said that the ship's stability was continuously monitored during the operation. Pollution control vessel MS Arca is staying close by as a precautionary measure together with other ships from the Dutch and German coast guard.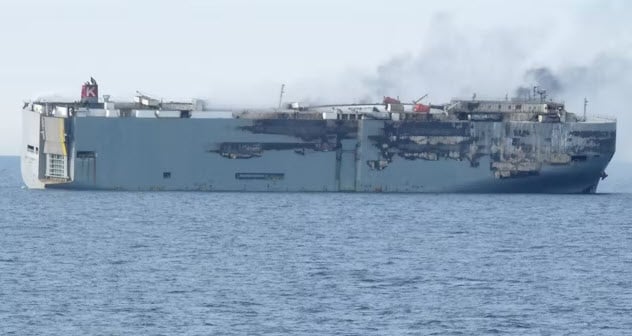 As disclosed, ships in the vicinity and coastguard aircraft will continue to surveil the situation and a review of the situation on board will take place once at the temporary anchorage.
Ultimately, the agencies want to tow the ship to a port, once the situation on board allows it. The exact port to host Fremantle Highway is yet to be determined.
The fire was reported to the Dutch coast guard on Tuesday evening, July 25, shortly before midnight, as the car carrier, loaded with nearly 3,000 vehicles, was sailing some 27 kilometers north of Ameland, an island off the northern Dutch coast.
All 23 crew members have been taken off the PCTC, chartered by Kawasaki Kisen Kaisha (K Line).
Regrettably, one crew member has been reported deceased.
The vessel is owned by Shoei Kisen, and managed by Wallem Ship Management.
Media reports were quick to pin the cause of the fire on the electric cars the ship was transporting, however, the coast guard reiterated on several occasions that the cause of the fire was yet to be determined.