Valaris drillship starts new chapter in Brazil
Offshore drilling contractor Valaris has revealed that one of its drillships has started its new assignment offshore Brazil with the country's state-owned giant, Petrobras.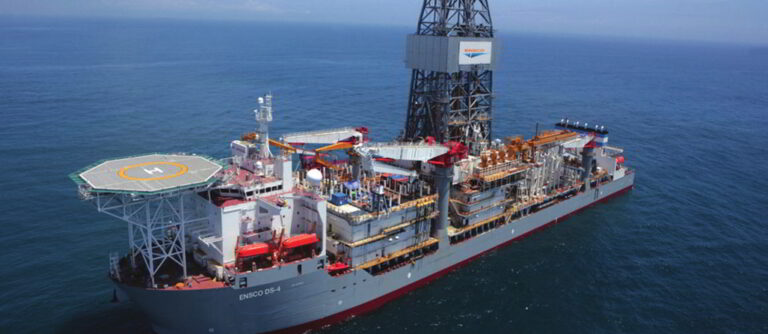 Back in October 2021, Valaris won a deal for the stacked drillship Valaris DS-4 with Petrobras for operations offshore Brazil. The contract was for a minimum term of 548 days.
At the time, the Valaris DS-4 rig was preservation stacked in the UK and needed to be reactivated before being mobilised to Brazil ahead of the anticipated contract start date, scheduled for June 2022. To this end, the drillship was expected to transit to the Canary Islands, where it would be reactivated so that it can set sail towards Brazil.
A few months later, Valaris shared a video update, detailing its progress in reactivating four stacked rigs ahead of their return to the market. One of these rigs was the 2010-built DS-4 drillship, which at that point had departed from Las Palmas, Canary Islands where it was reactivated for its next assignment with Petrobras. The contract is expected to run until December 2023.
In an update last week, Valaris confirmed that the Valaris DS-4 drillship was able to start its new chapter in Brazil after being accepted by Petrobras on 9 July 2022. As the drillship has started working at the Petrobras-operated BM-S-11 field, the drilling operations are currently underway.
Gustavo Hassan, Valaris Operations Manager, remarked: "The Valaris DS-4 was accepted by Petrobras on July 9, and it is currently drilling at the BM-S-11 field. This milestone was achieved thanks to the tremendous efforts and dedication from different teams; the Valaris DS-4 crew, and Capital Projects delivered a safe reactivation while the Brazil office staff supported the completion of all the local requirements; kudos to all involved."
The BM-S-11 field is one of four concessions – BM-Seal-4, BM-Seal-11, BM-Seal-4A and BM-SEAL-10 – located in deep water in the Sergipe-Alagoas Basin and Petrobras opted to keep the entire interest in these concessions in May 2022 by ending the divestment process for a partial sale of these assets.
The Brazilian giant has a 60 per cent stake in the BM-S-11 concession while its partner, IBV Brasil Petróleo, holds the remaining 40 per cent.
Regarding the DS-4 drillship, it is worth reminding that it experienced an incident in which the rig broke free of moorings in February last year at a port in Scotland.
When it comes to Valaris' most recent activities, it is worth noting that the offshore drilling contractor secured several new jobs for its offshore rigs so far this year. In lieu of this, Offshore Energy reported in April 2022 that several of Valaris' rigs were embarking on their new assignments in the Gulf of Mexico, Mauritania, and Brazil.
In other Valaris-related news, the rig owner recently received a termination notice for the drilling contract involving a drillship, which was supposed to work for Equinor in the U.S. Gulf of Mexico.