Venta Maersk Starts Historic Arctic Voyage Using Ultra-Low Sulphur Fuel
Maersk's ice-class ship Venta Maersk departed Vladivostok earlier today heading for the Northern Sea Route, becoming the world's first containership to venture through the route.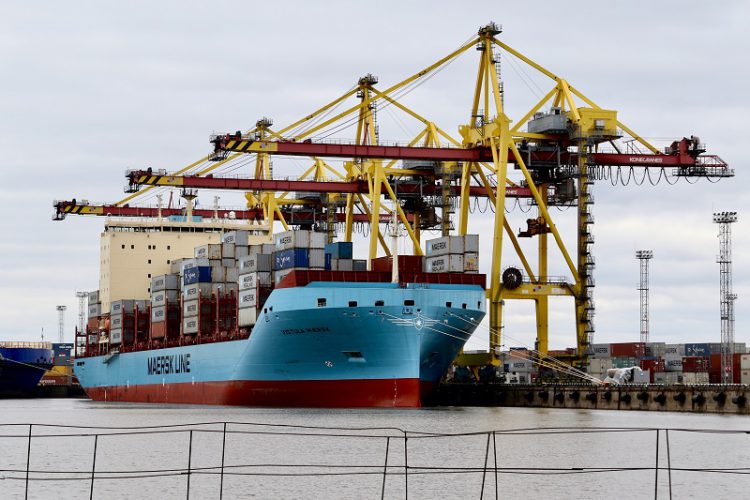 The 3,600 TEU ship is heading toward Vostochniy Port, where it is expected to call tomorrow, August 24, as part of the trial run aimed at collecting scientific data.
The ship forms part of the company's fleet of Baltic feeder vessels, which have been purpose-built for low-sulphur fuel in order to comply with the Emission Control Area or ECA requirements for the Baltic and Northern sea regions.
"Although not a regulatory requirement, Maersk has decided to use ultra-low sulphur fuel (ULSFO) for this trail. We will of course ensure that Venta Maersk will comply with all regulations at the time the trial is conducted," the company spokesperson said in a statement to World Maritime News.
The decision is of particular importance due to environmental concerns raised amid growing shipping activity in the Arctic waters. Namely, due to higher frequency of vessels there is an ever growing risk of collisions and shipping incidents, including oil spills in an area which is lacking in adequate infrastructure to deal with oil pollution.
Special requirements for the ship and crew
Due to the harsh weather conditions in the Northern Sea Route, including sub-zero temperatures, low visibility due to the darkness and fog, the ships transiting the route have to meet strict technical conditions in order to be able to navigate safely through the Arctic waters.
In practice this means that the structural strength and integrity of the ship's hull are very important as well as the reliability of all systems on board including propulsion, steering and power generation due to remoteness and lack of available ports for potential repair and pick-up of supplies in the region. Aside to ice strenghtened hull, the ships have to have higher propulsion power and include other winterizing features, i.e., making materials and equipment on board resistant to low temperatures to avoid malfunctions.
Venta Maersk was ordered as part of a series of seven ships in 2015 from Cosco Shipyard that has been described as the world's largest ice-class container vessels, designed specifically for operation in winter conditions and temperatures of down to -25 degrees C. Apart from their stronger hull, they are characterized by high refrigerated cargo intake.
In line with the IMO's requirements, masters, chief mates and officers in charge of a navigational watch on board ships operating in polar waters have to complete training in ice navigation.
This means being proficient in operating a ship in ice covered waters, recognition of ice formation, ice manouvering, dealing with technical problems caused by ice and ice escort operations etc.  In addition, officers and crew members should be be familiar with cold weather survival and keeping the ship in top condition to avoid icing.
If the ice is not frequently removed, it tends to build up on the ship's structure and may cause the vessel to destabilize or capsize.
In conclusion, since this is a very harsh environment, demanding for both the ship and the crew, venturing into the area is nothing to be taken lightly.
"The safety of our seamen and ships and the protection of nature is of utmost importance to us. The arctic conditions require special training of the crew, ship structure, machinery installations and emergency preparedness by the authorities. We are taking all measures to ensure that this trial is done with the highest considerations for the sensitive environment in the region," Maersk told World Maritime News.
World Maritime News Staff