WATCH: McDermott prepares Tyra module for journey to North Sea
U.S.-based contractor McDermott International has completed the load out of the Tyra East G (TEG) gas processing module for the TotalEnergies-operated Tyra field for next week's sail away towards the Danish North Sea.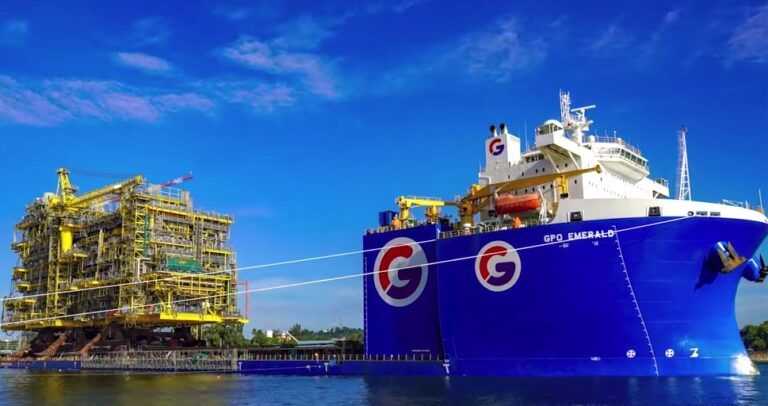 As reported in early August, TotalEnergies revised the first gas date for the Tyra redevelopment project amid global supply chain challenges that impacted the extent to which fabrication work on the process module (the TEG) was being completed in the yard in Batam, Indonesia.
McDermott has been focusing on completing the construction of the TEG module since late last year following the completion of two bridges and a flare.
Following the completion of an installation campaign this spring, seven out of eight modules are already installed offshore and the TEG was the only remaining module with onshore fabrication still ongoing.
As a result of the supply chain challenges, it was agreed for the module to leave the Batam yard in September 2022 but in an incomplete state. It will depart with additional work required to be completed offshore with approximately 580,000 hours of remaining work and about 165,000 hours required to reach the first gas.
Additionally, the operator of the project revised its plan for the ongoing hook-up and commissioning phase (HUC).
McDermott has now shared a video of the load out operation ahead of the sailaway, which is expected next week.
The TEG will be transported directly to the Tyra field by heavy lift vessel GPO Emerald followed by a lift and installation by Heerema's Sleipnir. The giant semi-submersible crane vessel was also in charge of installing the first new Tyra topside in August last year.
The Tyra field is the centre of Denmark's national energy infrastructure, but the project had to be redeveloped due t the field's natural subsidence of the chalk reservoir after many years of production. TotalEnergies operates the Tyra field on behalf of the Danish Underground Consortium—a partnership consisting of TotalEnergies EP Denmark (43.2 per cent), Noreco (36.8 per cent), and Nordsøfonden (20 per cent).
Once the modernized Tyra II is back on stream, it is expected to deliver 2.8 billion cubic meters of gas per year which amounts to 80 per cent of the forecasted Danish gas production.