Waves and tides form stronger tie-up
Swedish wave developer CorPower Ocean and UK-based tidal player Sustainable Marine Energy (SME) have joined forces to tackle foundations and moorings for marine energy devices.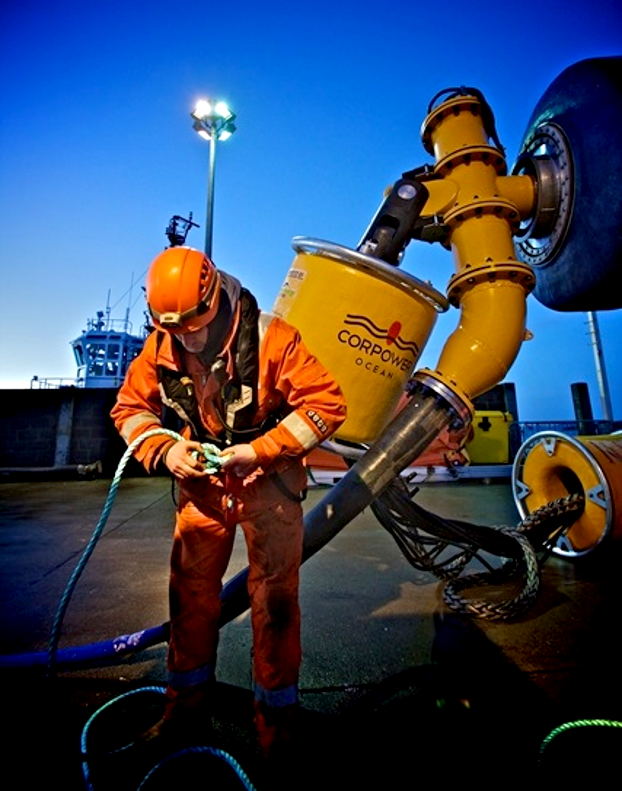 The €2.3 million wave and tidal collaboration is expected to result in the development and demonstration of generic foundation mooring solution that will reduce cost and improve O&M methods.
The project, called UMACK – Universal Mooring, Anchor & Connectivity Kit Demonstration, will address ocean energy affordability, survivability, reliability and installation through the demonstration of a generic anchor-foundation-mooring-connectivity system which aims to reduce capital and installation costs by up to 50%.
Aside from CorPower and SME – UMACK project is also being developed by mooring experts TTI Marine Renewables, the world's leading ocean energy test and verification facility the European Marine Energy Centre (EMEC), and marine renewable energy modelling experts at the University of Edinburgh.
A user-group involving additional wave and tidal developers will be providing use-case guidance and have access to the results, to ensure sector wide impact from the project.
Led by CorPower, the joint industry effort will develop and demonstrate a remotely operated, technology agnostic, quick connect, technical anchor and smart mooring system for multiple seabed types, applicable to a wide range of marine energy technologies.
This will be coupled with a streamlined marine operations strategy focused on simplifying vessel requirements, reducing cycle time for connection and retrieval of devices while increasing operational windows.
The project will also demonstrate how the improved strategies and reduced downtime afforded by the system will ultimately decrease the levelized cost of electricity (LCOE) and increase energy return on investment.
The anchor solution will undergo an extensive verification and validation campaign including subsystem testing followed by open sea testing, according to the developers.
The UMACK system will be installed at a wave energy site and first demonstrated using an 'empty' CorPwer C4 wave energy converter hull. Following successful project delivery, a PTO will be integrated into the C4 hull, and the UMACK system will be verified with an integrated wave device, project partners said.
Patrik Möller, CEO of CorPower Ocean, said: "The UMACK solution will improve reliability, reduce marine energy's LCOE and accelerate progression towards large scale commercialization. Performing extensive pre-qualification of the wet subsystems prior to full device deployment is a novel approach to marine energy development aiming to significantly de-risk the overall project and bring best practice to the industry."
Matthew Finn, Senior Business Development Manager at EMEC, added: "Mooring solutions are a challenge across the industry, but aren't inherently tied up in the IP of the marine energy converters being developed in the industry. It's exciting to see two EMEC clients, from wave and tide, join forces to find a common solution that will benefit the wave and tidal energy sector more broadly.
"Additional potential lies in extending the technology to the floating offshore wind market increasing the opportunity to foster wide ranging costs savings beyond the scope of the involved partners even further."
The project is being funded by Scottish Enterprise and the Swedish Energy Agency with co-funding from the OCEANERA-NET COFUND via the European Commission under Horizon 2020.