Working at the Bottom of the Bay
How Nova Scotia companies are making the most of Fundy's tidal energy
---
Mike Huntley knows the Bay of Fundy well.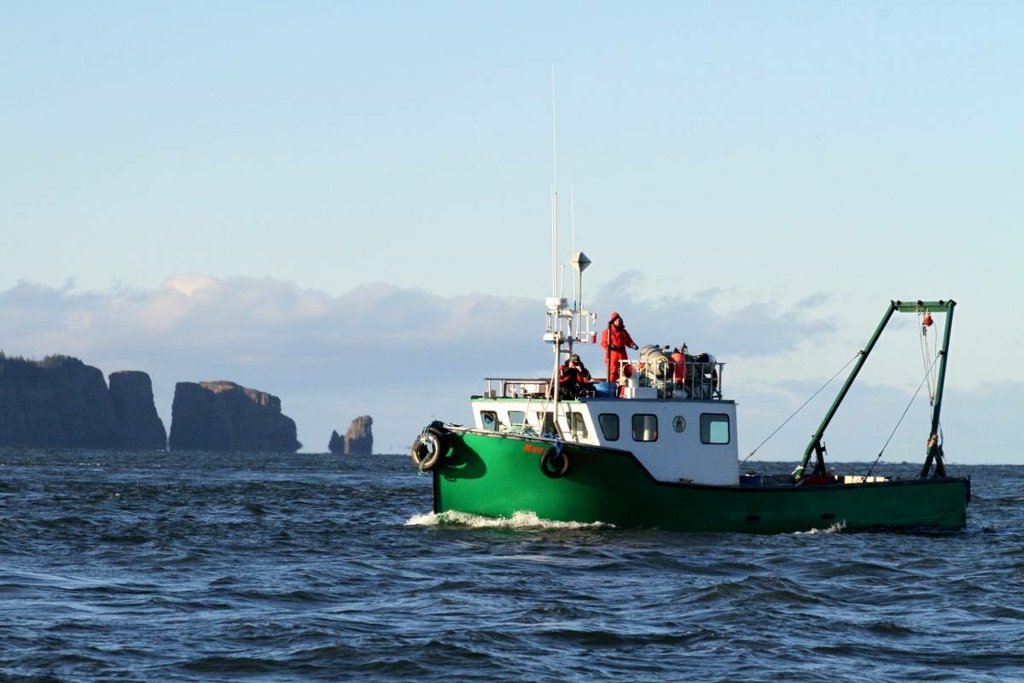 He was raised along its shores, and today he makes a living on … and under those same waters.
"My two boat captains and myself, we all grew up along the Minas Basin, and we all live within 10 or 15 minutes of it," says the owner of Kentville-based Huntley's Sub-Aqua Construction. "I go fishing out there too."
That knowledge comes in handy in the commercial construction diving business. Some of Huntley's business comes from providing marine services to the tidal energy sector. The company deploys and recovers underwater monitoring platforms at a turbine demonstration site in the Minas Passage, near Parrsboro. The site is operated by the Fundy Ocean Research Center for Energy (FORCE).
The platforms hold sensing equipment used to capture site data, including currents and turbulence, marine life activity, noise levels and seabed stability. The platforms, instruments and related infrastructure are part of the Fundy Advanced Sensor Technology (FAST) program.

Huntley said he enjoys marine work because each day is different and you're always learning on the job.
"Each task that we do could be repetitive but changes in the weather, sea state and tidal ranges make every job different."
The Kentville company is one of several businesses across the province that provide services to the developing marine renewable industry. Besides working with FORCE and tidal developers, the companies are also gaining expertise that can help the sector grow locally and worldwide.
"It builds on our existing skill – working in high-energy sites," Huntley said of tidal work. "That's what we've always done, but we've sort of built upon that."
Huntley's has five employees – two boat captains and three other divers. They use a specialty vessel, a former fishing boat called the Nova Endeavor, for tidal work such as moving FAST platforms into and out of the water. A barge called the Kipawo is also involved in some platform work, although it's primarily used for aquaculture jobs.

Besides knowing how to use specialized equipment, Huntley's staff must also know their roles for each job and be prepared for conditions that can change quickly.
"A short weather window is 40 to 50 minutes of reasonably slackish water. The winds have to be 20 knots or less. That's the main window we need."
Along with the FORCE contract, the 24-year-old Kentville company has done diving work at smaller potential tidal sites on Digby Neck. Huntley's has also provided underwater video services for university researchers at Dalhousie and Acadia universities.
Another tidal contractor, Parrsboro's Norman Rafuse, agrees that versatility and diversification are key to doing business in Nova Scotia.
"This is a small community. To survive here we've got to do it all," said the owner of Rafes Construction. "We've done commercial; we've done residential. We've just done whatever there is to do."

That do-it-all mindset has extended to construction projects in the tidal industry. Rafes Construction, founded in 1978, built the FORCE visitors' centre and an electrical substation near the site.
Each project provided work for almost 20 people, Rafuse said. The number was higher including subcontractors, he added.
Besides the tidal work by his company, the Rafes Construction owner also sees the benefits the industry is creating for others in the community.
"When the equipment and a turbine are in the water, a lot of people come here to work," he said. "They stay here – it's a lot of work for the bed and breakfasts and the restaurants. The local people, everyone gets called in once in a while – the local boats."
Local experience, new expertise and more opportunity above … and below the waterline. Those are just some of the benefits that come from building Nova Scotia's tidal industry.
---
The article has been contributed by Nova Scotia Department of Energy.
The views and opinions expressed in the article are those of the author and do not necessarily reflect the official policy or position of MarineEnergy.biz.
---