'World's 1st' ammonia-powered containership set to debut in 2026, Yara says
Yara Eyde, which has been described as the world's first containership to be powered by pure ammonia as fuel, is scheduled to enter the market in 2026, according to its developers.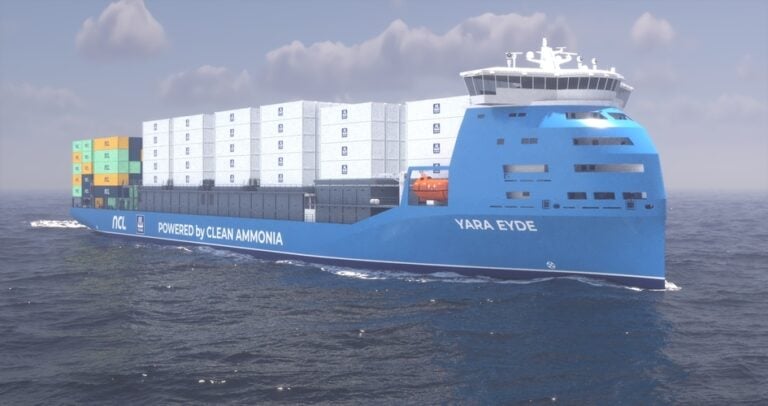 The vessel is being developed by ammonia producer and shipowner Yara Clean Ammonia and the Norwegian container operator NorthSea Container Line.
Namely, the duo plans to set up a joint venture, named NCL Oslofjord AS, to operate the ammonia-powered ship.
Upon establishment, the joint venture aims to become the world's first line operator to focus exclusively on ammonia-powered container ships.
Yara Eyde has been awarded around NOK 40 million ($ 3.6 million) by Norwegian government enterprise Enova for the project implementation.
The containership is also planned to be fitted with a battery pack of 250 kWh and the option to connect to shore power.
Establishment of the joint venture and ordering of the ship is conditional on the completion of binding agreements and the necessary approvals from the authorities.
Yara Eyde is intended to operate between Norway and Germany, making the route the first emission-free sea route to the continent. The vessel design is optimized for the trade corridor between Norway and Europe linking Oslo, Brevik, Hamburg, and Bremerhaven.
Yara Clean Ammonia estimates that the ship will be ready to start operations from 2026.
"The world is in the middle of a climate crisis and all good forces must now come together to quickly cut emissions. We are happy to be able to collaborate across sectors and show that decisive emission cuts are possible. The green journey started with the Yara Birkeland, the world's first self-driving electric container ship, and now we continue it with the Yara Eyde, which will be the world's first container ship on pure ammonia," says Svein Tore Holsether, CEO of Yara International.
Holsether explained that, as a direct continuation of the green logistics with Yara Birkeland, the ammonia-powered ship Yara Eyde would extend the zero-emission value chain from Brevik to ports on the continent. He mentioned that with an emission-free sea journey from Brevik to Europe, Yara scope 3 removed emissions by 11,000 tonnes of CO2 per year.
"We see there is increasing demand from product owners to reduce emissions. The ship offers competitive and emission-free logistics to all cargo owners in the Oslofjord and the Greenland region," says Bente Hetland of North Sea Container Line.
Yara Clean Ammonia plans to provide Yara Eyde with fossil-free or nearly carbon-free ammonia. In collaboration with Azane Fuel Solutions, a bunkering network is in the works to make pure ammonia accessible in Norwegian and eventually Scandinavian ports. This network aligns with Norway's emissions reduction targets for the offshore sector.
The initial pilot projects have backing from Enova and Innovation Norway, and plans include supplying low-emission fuel to Yara Eyde in Brevik using one of the bunkering barges in the making.
To remind, Azane intends to build the world's first ammonia bunkering network, with Yara Clean Ammonia already pre-ordering 15 units. Azane is a commercial partner of Yara Clean Ammonia, which expects to provide clean ammonia to be stored in Azane's bunkering units once operational.
"When we produce ammonia from renewable energy or with natural gas where up to 95% of the CO2 emissions are captured and stored permanently, pure ammonia will quickly be a good solution for cutting carbon emissions in the maritime sector. Yara Eyde will demonstrate the maturity of ammonia as a maritime fuel," says Magnus Krogh Ankarstrand, head of Yara Clean Ammonia.