Yara and Navigator secure stake in ammonia bunkering startup Azane
Yara Growth Ventures, the venture investment arm of Norwegian Yara International, and UK-headquartered Navigator Holdings have each acquired a 14.5% interest in the Norwegian ammonia bunkering startup Azane Fuel Solutions.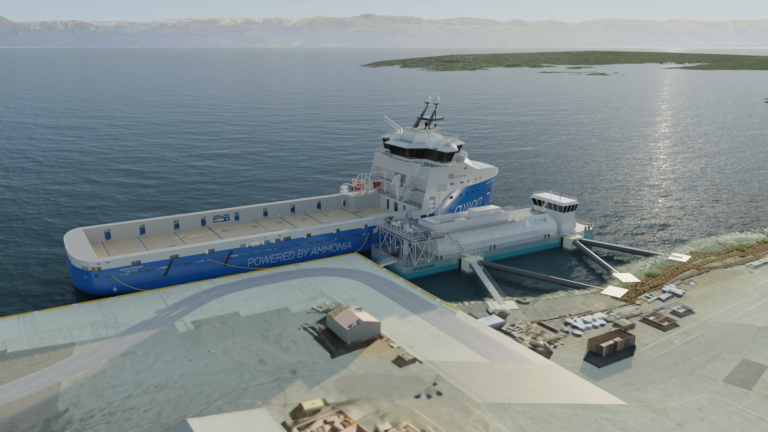 The companies led an investment round of €5.4 million in Azane to commence construction of the first of 15 bunkering units.
Azane, a joint venture between Norwegian companies ECONNECT Energy and Amon Maritime, was founded in Norway in 2020 as a company that develops proprietary technology and services for ammonia fuel handling to facilitate the transition to green fuels for shipping.
Subject to customary conditions, Azane intends to build the world's first ammonia bunkering network, with Yara Clean Ammonia already pre-ordering 15 units. To note, Azane is a commercial partner of Yara Clean Ammonia, which expects to provide clean ammonia to be stored in Azane's bunkering units once operational.
The investment made by Yara and Navigator is expected to enable Azane to begin construction of its first bunkering unit for ammonia supply in Norway, aiming to kickstart the transition to zero-carbon fuels for maritime transportation.
The commencement of operations of the bunkering units is anticipated to begin in Scandinavia in 2025.
Future value creation for Azane is expected to come through international expansion with its bunkering solutions and broadening of its offerings in ammonia fuel handling technology, Yara International noted.
Stian Nygaard, Investment Director, Yara Growth Ventures, who is also joining the board to help build the company as a strategic investor, commented: "Currently, ammonia fuel bunkering does not exist. With this investment, it is expected to become a reality in a year, starting in Scandinavia. This is anticipated to be a huge milestone for reducing emissions from the shipping industry. By enabling Azane to be the first mover on providing this key part of the infrastructure, our goal is to fill a gap in the ammonia chain needed for fueling ships."
Mads Peter Zacho, CEO, Navigator, stated: "Green ammonia is crucial to the future success of carbon-free shipping, and Azane is working to provide a solution to a clear and important gap in the ammonia fuel value chain. Global ammonia demand is expected to triple by 2050, with a significant part being for ship fuel."
"In an increasingly strong regulatory environment towards greener fuels in the shipping industry, I am very pleased Navigator is not only making efforts to become a more sustainable business itself but also investing in scale-ups that we believe can support and expedite the transition across our industry. We look forward to strengthening our working relationships with Yara and Azane through this partnership."
André Risholm, Chairman, Azane, noted: "The fresh funds will help accelerate the company's growth ambitions in Scandinavia and internationally. As a first mover, Azane's bunkering solutions will enable ship owners across the world to make the transition to carbon-free shipping by showcasing full-scale commercial bunkering projects."