Zvezda lays keel for 1st of three LNG-powered MR tankers
Russian Zvezda Shipbuilding Complex held a keel-laying ceremony on Tuesday for the first of three ice-class MR product tankers, ordered by SCF Atlantic, a subsidiary of SCF Group.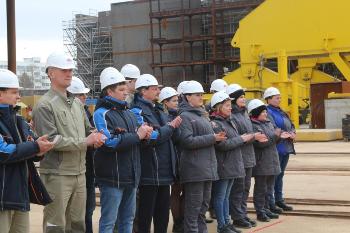 The MR-type product carrier will be operating on LNG as a marine fuel as a means of cutting sulfur and NOx emissions.
The 1B-ice class tanker will have a deadweight of about 50,000 tonnes, length of over 180 meters, a width of over 32 meters, and a draft of 13 meters. The first of the three vessels is scheduled for delivery in 2022. 
The ships will be capable of conducting year-round navigation, including in the ice conditions of the Baltic Sea.
The LNG-powered MRs will be used to transport oil products and gas condensate under a long-term charter to a unit of PAO Novatek.
The shipyard is making progress on the construction of 114,000 dwt Aframax tankers, having laid the keel of the eight tanker from a series being built for PJSC Sovcomflot, with subsequent chartering by PJSC NK Rosneft
 The ship is 250 meters long, has a width of 44 meters, and is set to be fitted with a helicopter platform. 
The planned delivery date for the ship is 2022.
Currently, Zvezda is building seven Aframax tankers at various stages. The lead ship of the series was handed over to the customer at the end of 2020.
The Aframax type tankers, also set to be powered by LNG, are intended for the transportation of crude oil and oil products in an unlimited navigation area.
SCF Group has been supporting the switch to LNG as a marine fuel as part of the industry's decarbonization efforts for a while now.
The company already operates a series of Aframax-class tankers that run on LNG as fuel.
The shipping major has a fleet of 145 vessels, including 116 owned tankers, 16 gas carriers, 2 dry cargo ships and 11 specialized vessels.