25,000 TEU LNG-Fuelled Boxship Design Secures AIP
This year's Marintec in China seems to be pushing the industry limits, with numerous breakthrough announcements and records being unveiled.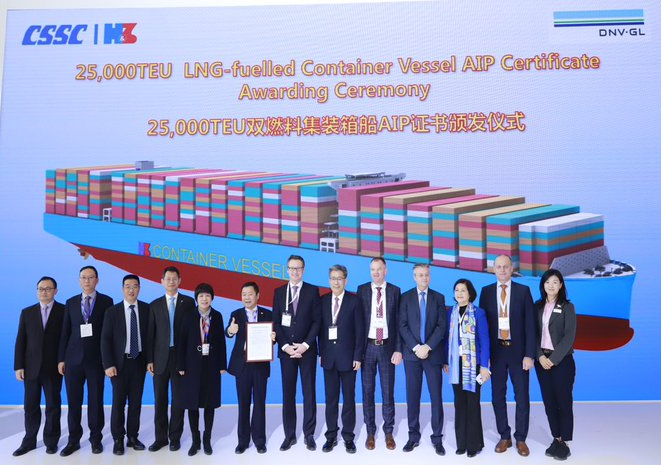 The latest one includes the potential construction of what would be the world's largest containership, boasting 25,000 TEU.
Namely, DNV GL said on Wednesday that it had awarded Chinese shipbuilder Hudong-Zhonghua Shipbuilding an Approval in Principle for a 25,000 TEU LNG-fuelled containership.
Knut Ørbeck-Nilssen, CEO DNV GL – Maritime, handed the AIP certificate to Chen Jun, President of Hudong-Zhonghua at Marintec 2019.
LNG-fuelled design concepts have been under the spotlight at the show, as natural gases as fuels take up a greater role in decarbonizing the global fleet of the future.
The classification societies have been busy developing numerous projects with the Chinese yards announcing approvals for ammonia-fuelled ships and LPG class notations to help spur the efforts to design and build zero-emission ships.
In a similar initiative, DNV GL will be teaming up with Huangpu-Wenchong Shipbuilding Company (HPWS) on a 5,000 TEU LNG dual-fuel containership.
The planned energy-efficient 5,000 TEU Panamax containership is intended for the fast-growing intra-Asia trades, and would feature a hydrodynamically optimized low resistance ship line, cutting edge intelligent ship technology and a more effective structural design.
"I am very excited this marks another significant achievement, further to the strategic cooperation agreement and the 200th DNV GL classed vessel built by HPWS last year. It is trust and synergies stemming from our powerful partnership that makes this happen today, and I am positive there is more to come in the near future," said Wang Yi, HPWS Commission Director for Science and Technology.
"Closely partnering with industry and sharing knowledge is crucial to helping the industry improve its environmental footprint while remaining competitive, and the new HPWS vessel is a case in point for this approach," said DNV GL's Falk Rothe.
The joint development project includes drawing assessments, an AIP statement, and a workshop looking into intra-Asia container transportation.