3D model-based classification approvals simplify ship design processes, new JDP confirms
Classification society Bureau Veritas (BV), the Shanghai Merchant Ship Design & Research Institute (SDARI) and maritime software provider NAPA have completed the first phase of a joint development project (JDP) to enable 3D model-based approvals for the classification of ships.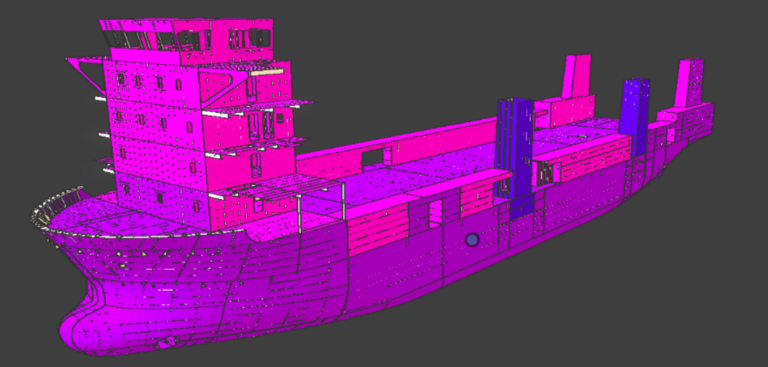 The project validated the feasibility of 3D model-based approvals (3D MBA) where classification reviews are directly based on the 3D model provided by the designer rather than requiring multiple conversions to 2D drawings, which is the traditional process.
As explained, the objective is to boost efficiency in the design process, saving time and costs, while improving accuracy and communication between all parties involved in a design, including shipyards, naval architects and engineers, shipowners, and classification societies.
The JDP confirmed that the expected benefits of 3D MBA were achieved, with the project demonstrating an improvement in design review quality as well as enhanced collaboration between all parties.
The first phase of the project tested the entire classification process to ensure that all steps were properly carried out and to improve the various software as needed. A ship designer under China State Shipbuilding Corporation (CSSC), SDARI, adopted NAPA Steel software, while BV used NAPA Designer for the automatic generation of the calculation models to perform rule checks.
Using an open file format (OCX) generated by NAPA Designer, BV could use the 3D model provided by SDARI to perform the design review using its in-house rule-checking software: MARS and VeriSTAR Hull. BV's structure assessment comments were then associated directly with the 3D model, which facilitated a better understanding and seamless communication between BV and SDARI.
"We are proud to take the next step in our digital transformation, by developing 3D model-based approval procedures in collaboration with NAPA and BV. This will significantly streamline ship design processes, thereby boosting our capacity and competitiveness at a time when the decarbonization transition brings new challenges for ship designers and engineers. With this project, we found that using 3D models with BV for classification rule checks and approvals is a win-win situation," Lu Li, Vice President at SDARI, commented.
"This fruitful collaboration with BV and SDARI has proven that 3D model-based approval can make the design process more streamlined, efficient, and collaborative. As such, 3D MBA is an essential foundation for the fast-paced innovation that is needed to deliver the next generation of greener, energy efficient vessels that are demanded by the industry," Mikko Forss, Executive Vice President for Design Solutions at NAPA, said.
"Using a 3D model consistently as a "single source of truth" will help all parties work together efficiently to deliver the best possible designs, while also enhancing their own productivity to ensure strong, profitable businesses."
"This project has provided further evidence of the effectiveness and viability of 3D model-based approvals to enable more efficient communication between ship designers and classification societies, while ensuring that all safety and regulatory standards are met," Laurent Leblanc, Senior Vice-President, Technical & Operations at Bureau Veritas Marine & Offshore, said.
"This collaboration with SDARI and NAPA is a tangible demonstration of BV's commitment to make 3D model-based approval a reality as a foundation for enhanced innovation and efficiency in ship design, ready to meet the safety and sustainability challenges ahead."