ABS greenlights ammonia-fueled containership design by Seaspan and partners
Seaspan Corporation and the Mærsk Mc-Kinney Møller Center for Zero Carbon Shipping (MMMCZCS), in collaboration with Foreship, have received Approval in Principle (AiP) from classification society American Bureau of Shipping (ABS) for the design of a 15,000 TEU ammonia-powered containership.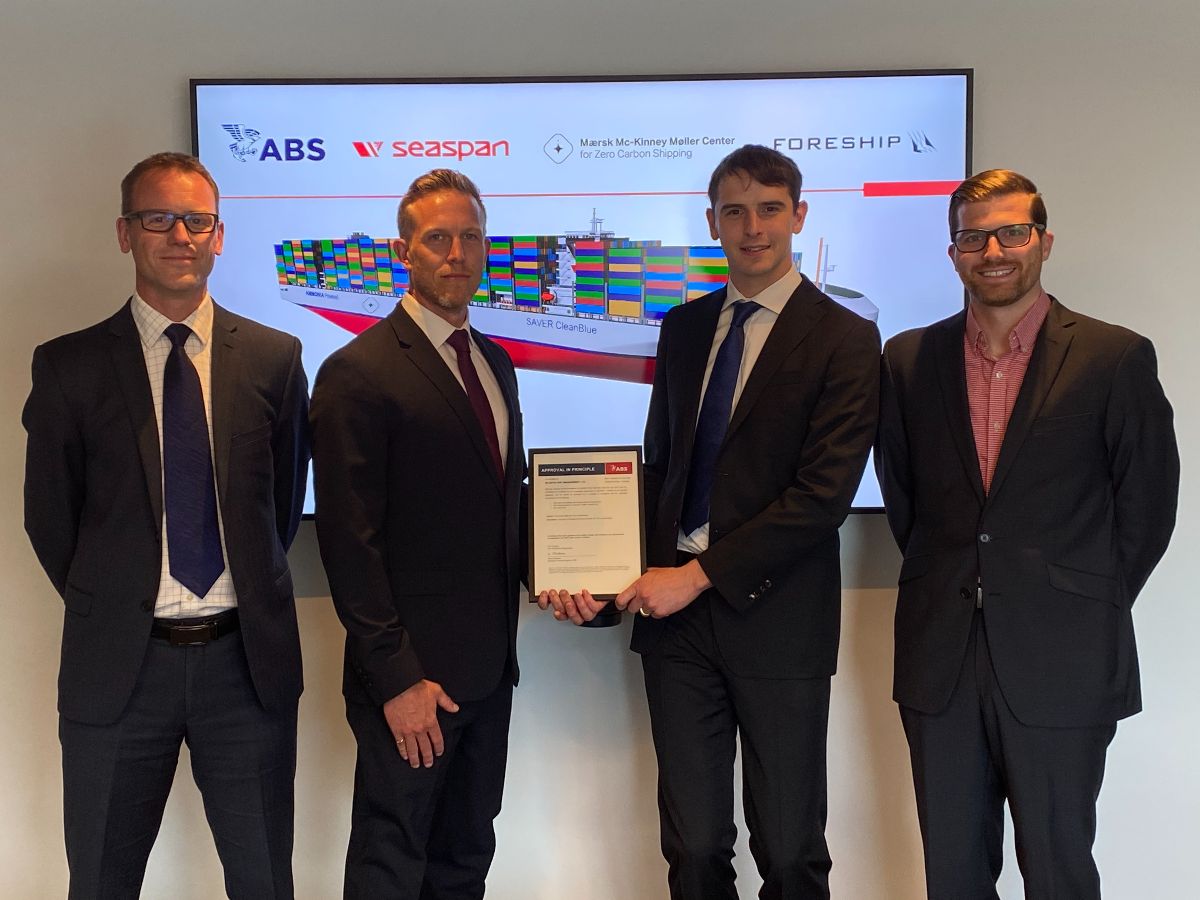 The certificate was presented at the MMMCZCS office in Copenhagen, Denmark, on 25 July. The project partners revealed the vessel's design earlier this year.
As explained, the concept design for the ammonia-powered containership included defining the safety objective, the impact of ammonia as a fuel on vessel performance, completion of a hazard identification (HAZID) qualitative risk assessment and development of the concept design. Documentation included a fuel range and endurance analysis, ammonia tank and system location assessments, general arrangement, main machinery and electrical system design, and initial vessel stability calculations.
The project is connected to the Singapore Ammonia Bunkering Feasibility Study (SABRE) consortium, focusing on developing and demonstrating an ammonia supply chain in Singapore.
Phase 1 performed an end-to-end technical and commercial feasibility study of ammonia bunkering in Singapore along with a preliminary ammonia bunkering vessel design. Phase 2 is investigating how to mature the commercial feasibility so that contractual terms across the supply chain are prepared and can be executed to establish an ammonia bunkering operation in Singapore.
The 15,000 TEU vessel was designed as a potential receiver of ammonia fuel from bunker vessels currently under design and development.  
MMMCZCS said it will publish a report detailing the concept design, how the ammonia safety case was developed and outcomes from the risk assessment later this year. The potential commercialization of the vessel design concept based on technology and shipyard readiness will be the focus of the next stage of this project.
Peter Jackson, Senior Vice-President Assets & Technology at Seaspan Corporation, said: "This is a very good example of industry collaboration, where leading maritime organizations are working together and taking tangible steps to decarbonize the maritime industry. Ammonia is a very promising future marine fuel and this project is a vital and significant step in the development and realization of ammonia-powered containerships."
"This landmark vessel is an important step towards helping ship owners and operators benefit from ammonia's zero-carbon tank-to-wake emissions profile. However, ABS recognizes that ammonia presents a specific set of safety and technology challenges, and we are committed to leading the industry in supporting its safe adoption at sea," added Panos Koutsourakis, ABS Vice President, Global Sustainability.
Shaun White, Managing Director at Foreship UK, noted: "Foreship has a clear strategy and focuses on decarbonization services and supporting the marine industry to achieve net zero targets. This innovative project demonstrates how Foreship works in collaboration with ship owners, classification societies and research organizations applying industry-leading naval architecture and marine engineering expertise to ship designs using promising alternative fuels."
Follow Offshore Energy's Clean Fuel on: