Alfa Laval's FCM picked for methanol-powered mega containerships
Swedish sustainable solutions provider Alfa Laval has been contracted to provide FCM Methanol the low-flashpoint fuel supply system (LFSS) for four methanol-fuelled mega boxships.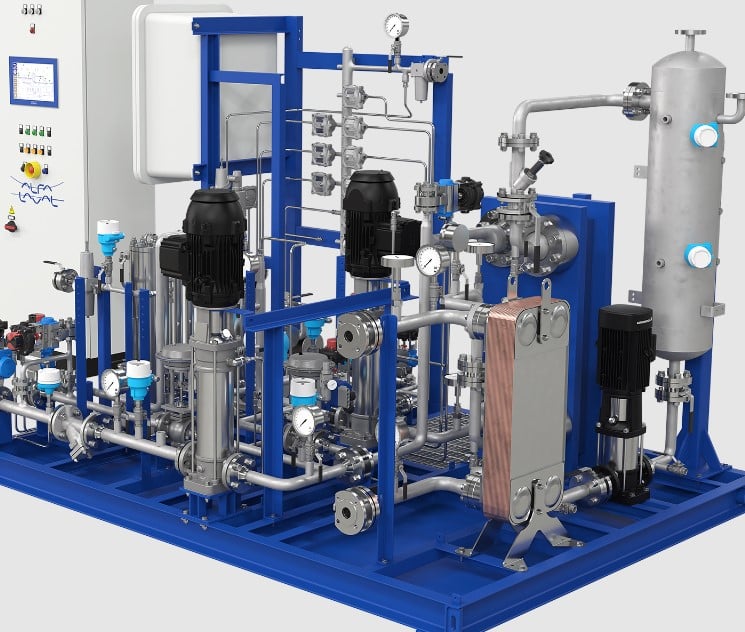 As informed, the new vessel series will have a two-stroke WinGD methanol engine and four-stroke Wärtsilä methanol engines. FCM Methanol will work for WinGD main engines and Wärtsilä auxiliary engines.
Deliveries of the FCM Methanol will commence in 2024. The vessels are being constructed by a Chinese shipyard.
"This project exemplifies our commitment to bringing alternative fuels into the shipping industry. We see close cooperation with key stakeholders, such as shipowners, shipyards, engine designers and engineering companies, as a way forward to make meaningful progress towards decarbonization," said Viktor Friberg, Head of Marine Separation & Fuel Supply Systems, Alfa Laval. 
According to the company, the project is characterized by several firsts, demonstrating the industry's commitment to address and embrace a joint responsibility towards decarbonization
Specifically, it marks the first time that a Chinese shipowner has ordered methanol-capable vessels. It is also the first time for the shipyard to build such vessels, and for WinGD to deliver engines for methanol – fuelled ships.
Furthermore, Alfa Laval will provide a customized methanol fuel supply system, adapting its FCM Methanol design to the requirements of these engines for the first time, marking it a significant milestone for the company as well.
Alfa Laval FCM Methanol will supply methanol within the flow rate, pressure, temperature, and filtration parameters specified by the engine maker. Due to its adaptability to any engine and vessel design, it will enable turnkey LFSS deliveries for easy installation, according to Alfa Laval.
The company has been pursuing energy transition projects and developing solutions for methanol since 2015.