All American Marine to continue construction of 1st US hydrogen fuel cell vessel
Boat builder All American Marine (AAM) has been awarded a contract to complete the aluminum construction and outfitting of an 84-passenger zero-emission, hydrogen-powered, electric drive vessel that will operate in the California Bay Area.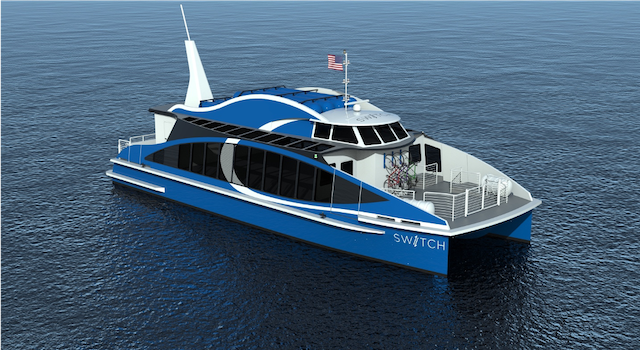 Prior to transfer to AAM, the project had begun at Bay Ship & Yacht shipyard in Alameda, California, where the aluminum hull and superstructure had been started.
The newbuild is said to be the first hydrogen fuel cell vessel in the US, representing a significant step in the maritime industry's transition to a sustainable future. The e-ferry is being developed to demonstrate a pathway to commercialization for zero-emission hydrogen fuel cell marine technologies. It will exhibit the viability of this marine technology for the commercial and regulatory community, according to AAM.
"We believe that hydrogen fuel cell technology will prove to be a robust alternative to conventional powertrain technologies," Matt Mullett, AAM President & CEO, said.
The contract to AAM was granted by SW/TCH Maritime, an impact investment platform to build North America's first fleet of maritime vessels dedicated to decarbonisation. The platform seeks to work with existing ferry operators around the country to provide capital to accelerate their transition to zero emissions, leveraging significant experience from the build of this e-ferry. This project is also partially funded by a $3 million grant from the California Air Resources Board.
Golden Gate Zero Emission Marine is the provider of the hydrogen fuel cell power package and also serves as technical and regulatory consultants on the project. The vessel will use an onboard set of fuel cells arranged in compact stacks, similar to battery racks, which allows the onboard space to be used efficiently.
Specifically, the fuel cells turn hydrogen into electricity by injecting hydrogen on one side and by supplying compressed ambient air on the other side of a proton exchange membrane (PEM fuel cell). The hydrogen fuel storage is connected to the fuel cell powertrain, creating electricity to run the propulsion motors and turning the twin fixed-pitch propellers. Fuel cell systems afford the same operational flexibility as diesel with zero emissions and less maintenance, AAM explained.
SW/TCH's San Francisco e-ferry will act as the flagship vessel for its fleet. The company is designing an all-electric ferry that it plans to launch in NYC waters following the proof of concept in San Francisco.