APM Terminals Mobile Bolsters Handling Capacity
The APM Terminals Mobile facility in Alabama has handled two container ships simultaneously for the first time at its newly expanded berth.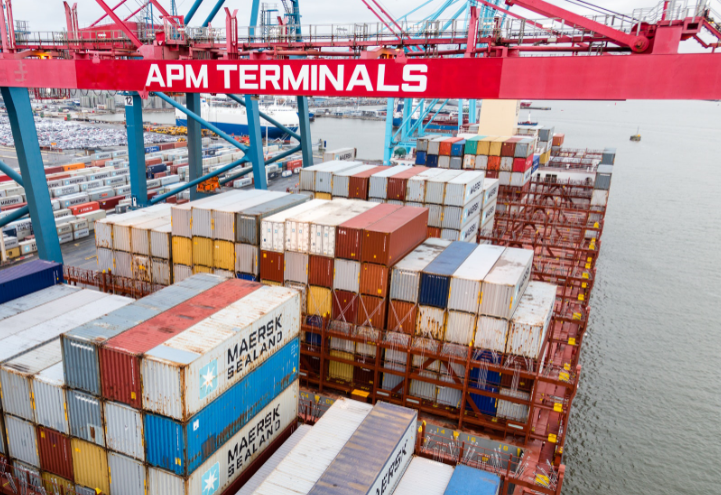 The Alabama Port Authority completed its 400-foot container dock extension on March 20 and it now enables two x 8,000-10,000 TEU ships to be handled simultaneously.
The two ships were Belita with a length overall of 334.1 m and Cosco Santons with a length overall of 261.1 meters.
The quay extension was part of a USD 50 million Phase 3 expansion that increased terminal capacity and productivity at the 10-year old APM Terminals Mobile intermodal container complex at the Port of Mobile.
The terminal is equipped with two Super Post-Panamax and two Post-Panamax ship-to-shore gantry cranes to service the larger container class vessels already calling the port.
The new dock is also capable of housing more cranes – which allows more cranes to be added in the future, the terminal operator said.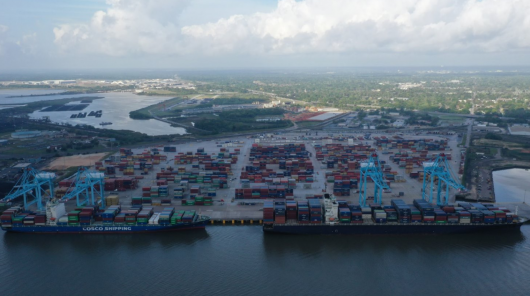 Prior USD 450 million investment
The APM Terminals Mobile Phase 3 modernization project complements prior investments by the Alabama State Port Authority and APM Terminals totaling USD 450 million in marine and rail container intermodal terminals.
Furthermore, U.S. Army Corps of Engineers recently issued a permit and receipt of full federal and state funding to take the Mobile Harbor to -50 feet draft by 2024. Construction on the channel and harbor improvements is expected to begin later this year.
"We continue to seek out and implement innovation and world-class infrastructure to meet the needs of our carriers and shippers," said Jimmy Lyons, director and chief executive officer for the Alabama State Port Authority.
APM Terminals Mobile currently has four direct all-water weekly services from Asia, calling various Ports in China and Southeast Asia; three of them make direct calls in Busan as well.
The facility handled 419,316 TEU in 2019.