APMT: Vado Gateway Terminal to Be Inaugurated in December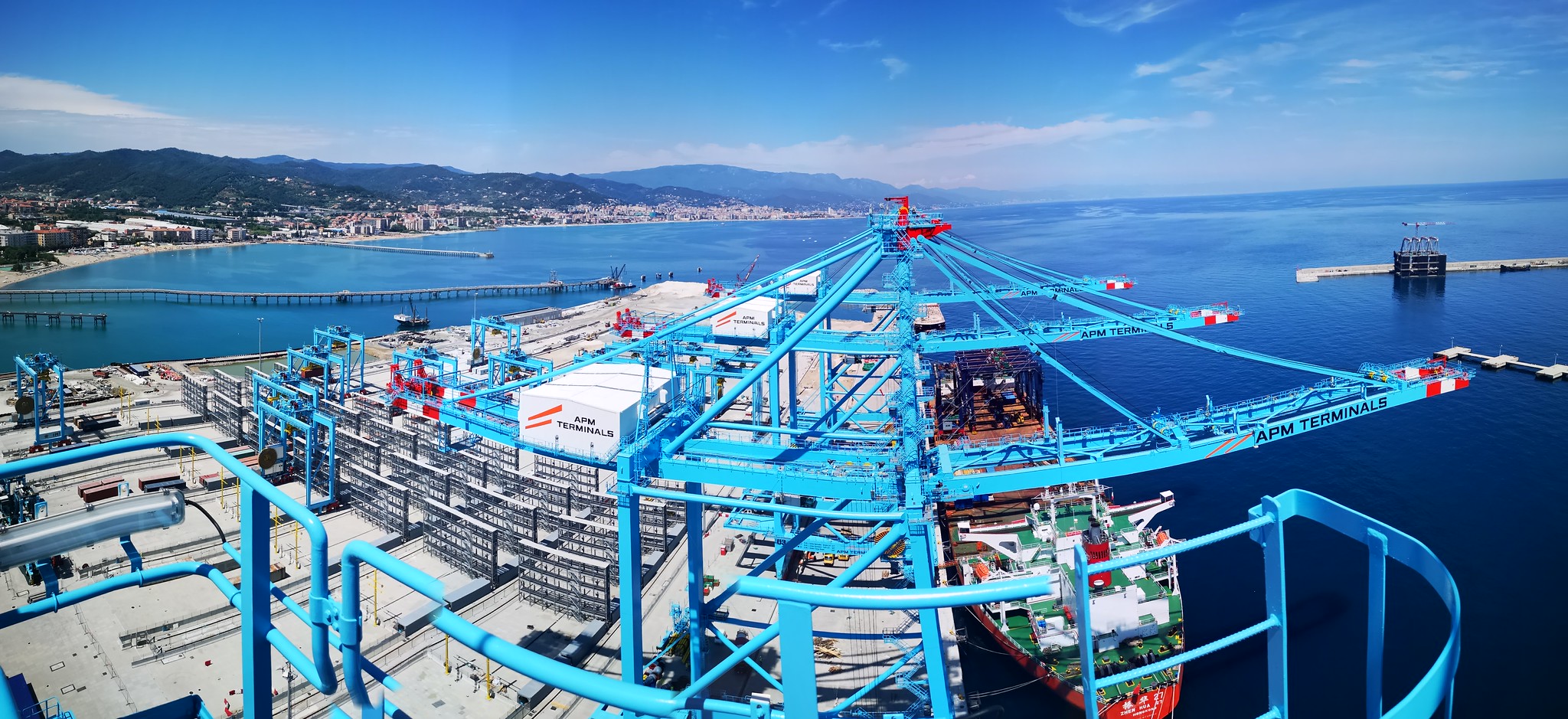 APM Terminals' new Vado Gateway terminal, located in the Vado Ligure Port Complex in northwestern Italy, will be officially opened on December 12 this year, the terminal operator said.
Once operational, the Vado Gateway Terminal will be fully integrated with the existing Vado Ligure Reefer Terminal.
It will become the first semi-automated port in Italy with a fully-automated gate and stacking yard. The 700-meter deep-sea berth at Vado Gateway will be capable of handling the latest ultra large container vessels (ULCVs) and up to 1.1 million TEUs per annum.
Over the coming month, the final ship-to-shore cranes will be installed, and a range of tests will be carried out. Each of the four cranes is over 90 meters in height and weighs in at around 1,800 tons. They have a horizontal reach of 23 rows of containers, a maximum 65-ton capacity in twin lift configuration and 100 tons 'under hook'.
The terminal will operate the most automated yard in Italy using 14 automatic rail mounted gantry cranes. The operator will intervene from a remote-control room only when required. This will enable the terminal to maintain the highest safety standards in the industry as no one will be physically present in the yard during container handling. Access to the automated forecourt will only be possible for maintenance activities when the cranes are non-operational, according to APM Terminals.
Containers arriving at the Vado Gateway will be recorded using dynamic video cameras installed on quay cranes (STS). These will automatically send the information to the terminal's operating system.
Last month, APM Terminal Vado Ligure replaced their existing terminal operating system (TOS) with Navis 4, to support the Vado Gateway Terminal as well as increasing the terminal's operational efficiency. This operating system is fully integrated with all the other equipment and enables real-time container tracking. This move also enables integration with the other APM Terminals companies in the world.
Containers will be transported around the terminal using hybrid straddle carriers. Operators will receive instructions directly from the TOS. Exchange areas within the terminal are equipped with cameras and sensors which, in the event of non-compliance with safety regulations, will trigger an alarm mechanism and block further operations.
On completion, the integrated Vado Ligure Port complex will be accessible via 14 reversible gate lanes. Maximum efficiency and short truck-turn-times of around 30 minutes will be achieved using a truck appointment system which is fully integrated with TOS.
Image Courtesy: APM Terminals
---
Related:
APM Terminals Expands Partnerships on Vado Terminals
APMT, Qingdao Port Group Pen MoU on Vado Project