Benefits and challenges of offshore platform electrification
Electrifying the existing Dutch North Sea offshore oil and gas platforms from shore and from offshore wind farms could help reduce CO2 emission by one megaton per year.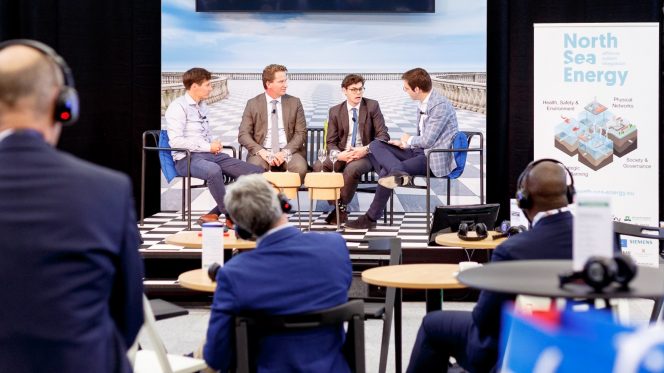 This was shared during a talk-show session on offshore platform electrification held last month at Offshore Energy Exhibition and Conference in Amsterdam.
The Netherlands currently has only one oil and gas platform electrified from shore, Neptune's Q13A-A production platform. According to Neptune, the electrification of the platform saves approximately 14,000 tons of CO2 per year.
EBN is now working with NAM and Tennet on a study on the electrification of the K-14 offshore platform in the Dutch North Sea, using power produced from an offshore wind farm that has yet to be developed.
This is interesting because the K-14 unit is a hub platform to which processes gas from an about a dozen surrounding platforms, making the unit a big consumer of energy. According to what was said in the talk-show, this platform could be electrified in 2023 if everything goes according to plan, leading not just to the CO2 emissions drop, but also to a drop in operational and maintenance costs and to increased uptime.
While all this sounds positive, there are always challenges. Some of these were discussed during the OEEC talk-show, with contributions from the participants from NOGEPA, EBN, and North Sea Energy Program.
Some of the challenges discussed were the relatively slow pace of offshore wind farm development as seen from the perspective of an aging oil platform which needs to be electrified sooner rather than later, legislation, economic viability, technical challenges, etc. Learn more on all of these by watching the talk-show below.
Offshore Energy Today Staff
---
People also read
Offshore Energy 2018 | ON AIR talk-show: Incorporating sustainability in policy, strategy, and behavior
Offshore Energy 2018 | ON AIR talk-show: CCS as a lifeline to reaching Paris goals
Offshore Energy 2018 | ON AIR talk-show: Hydrogen – the holy grail for transmission
Offshore Energy 2018 | ON AIR talk-show: System integration across borders
Related news
List of related news articles