OEEC: Incorporating sustainability in policy, strategy, and behavior
How can you promote a sustainability culture in your organization? How can you communicate effectively to engage millennials in the energy transition? How can the costs of the energy transition be distributed fairly across society?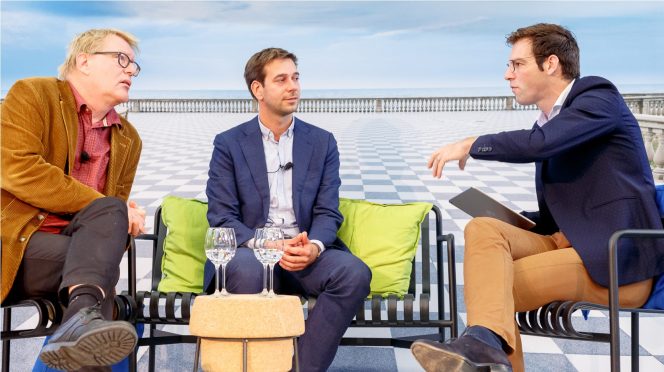 Maarten Bouwhuis BNR Nieuwsradio presenter discussed these and other questions on how to manage change in support of environmental, economic and social sustainability during the Offshore Energy Exhibition and Conference in Amsterdam last month.
In the talk-show, live-streamed on OffshoreEnergyToday.com, we heard from Aldo Scopetti, HSSE-Q Manager, Rosetti Marino SPA, Aad Correljé, Associate Professor, Delft University of Technology, Faculty of Technology, Policy and Management,  Jeroen Overduin, Senior Marketing Communications Advisor, Siemens / TransitieCoalitie, Michiel Ottevanger, Commercial Advisor, Vermilion Energy.
Scopetti, from Italian offshore engineering and construction company Rosetti Marino, has shared his company's way in including millennials in the sustainability story mix, by means of a competition in which a winning team gets to see its proposals on sustainability implemented across the company.
He said that while the company could've simply hired a professional in the subject matter, they wanted also to see t point of view of the next generation of "our possible leaders." When it comes to leadership, Scopetti feels one should lead by example and make sustainability part of its overall way of life, and not just focus on it at work.
More needs to be done on awareness
Overduin, communications advisor at Siemens feels more needs to be done when it comes to raising awareness about the industry among millennials. He has shared an example where he asked eleven millennials of different nationalities to share their views on the level of the usage of sustainable energy sources. None of them got it right, significantly overestimating the sustainable energy use.
He is working on a campaign to engage millennials in energy transition and raise awareness: "Most people don't realize the scope of the issue and the scope of the solution."
Overduin also feels that a huge structural change needs to happen if we're to attaining climate goals. He is not a proponent of the idea that simply choosing to shorten the time we spend in the shower, or eat less meat, or turn off the lights will lead to the needed goal when it comes to climate change prevention.
Vermillion Energy's Michiel Ottevanger, himself a millennial, joined the Canada-based company having previously worked for Shell.
He moved to Vermillion as he was given an opportunity to work on concrete renewables projects (geothermal and biogas), taking the opportunity to have an "entrepreneurial approach in Vermillion and to make some impact."
He says he partly disagrees with Overduin over the impact of an individual action. He feels the main impact comes from people, and if everybody changed their life a little there could be a real impact.
"My goal for this year is to inspire more people to make these changes," Ottevanger said.
Aad Correljé, Associate Professor, Delft University of Technology, Faculty of Technology, Policy and Management was asked about the stories that nobody wants to take on traditional oil and gas studies anymore.
Correljé said it's not exactly nobody but the amount of people going there for oil and gas exploration and production is decreasing.
While he sees today's students as having this natural inclination towards sustainability what he hears from students who are finalizing the studies and are going into the real world, starting to work, it really depends on the kind of company where they work; whether they are confronted with old paradigm with sustainability being something that you have to do…"whereas in other companies it's already there as a value."
Watch the full talk-show below
Offshore Energy Today Staff
---
People also read
Offshore Energy 2018 | ON AIR talk-show: System integration across borders
Offshore Energy 2018 | ON AIR talk-show: Benefits and challenges of offshore platform electrification
Offshore Energy 2018 | ON AIR talk-show: Hydrogen – the holy grail for transmission
Offshore Energy 2018 | ON AIR talk-show: CCS as a lifeline to reaching Paris goals
Related news
List of related news articles