China presses ahead with construction of methanol-powered ships as X-Press Feeders'newbuild hits the water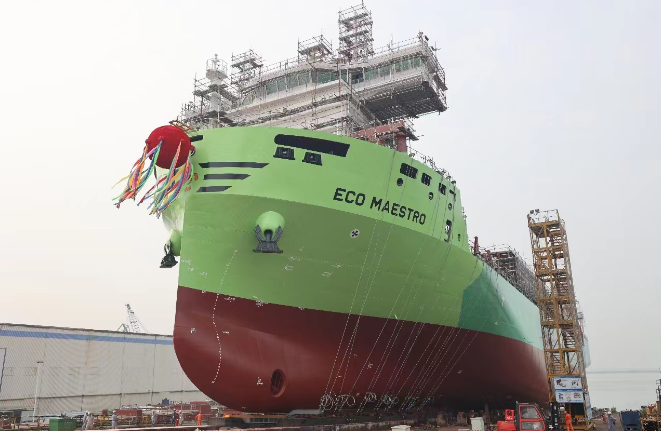 China marked a milestone on August 17 with the successful launch of its first-ever methanol dual-fuel container ship at New Dayang Shipbuilding Company, a subsidiary of SUMEC Shipbuilding.
The vessel, christened Eco Maestro, is the first among 14 methanol-powered ships on order for Singapore-based X-Press Feeders. Anticipated to commence service in the second quarter of 2024, the vessel will navigate feeder routes in Northern Europe.
"Powered by cutting-edge dual-fuel engines that can switch between conventional fuel and green methanol, the Eco Maestro stands as a testament to our commitment to achieve net zero emissions by 2050. We're proud to be the first independent common carrier company globally to introduce dual-fuel ships," X-Press Feeders said.
"This launch isn't just about making waves – it's about treading them responsibly. The Eco Maestro represents an exciting new frontier in our continued commitment to ensuring efficient, reliable shipments while protecting our environment."
Designed by German naval architects TECHNOLOG Servies GmbH, the Eco Maestro boasts dimensions of 13,900 deadweight tons (dwt) and a capacity of 950 twenty-foot equivalent units (TEU).
The ship spans approximately 148 meters in length and features a width of 27 meters.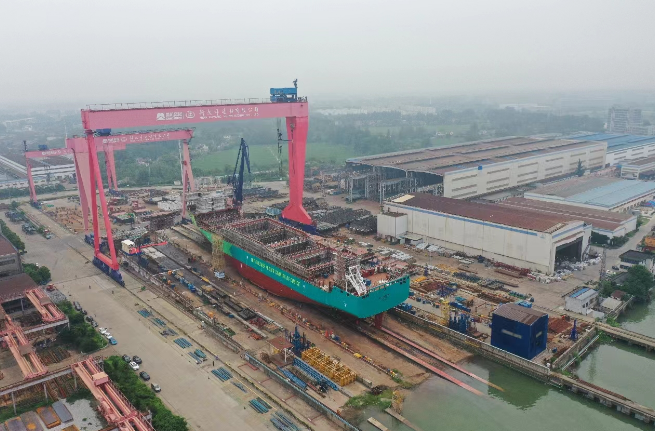 The vessel class represents the inaugural application of a S5ME MAN dual-fuel engine, specifically designed to operate on green methanol. The ship has been classed by DNV.
To further enhance energy efficiency, the vessels incorporate various energy-saving elements, including shaft generators, adjustable propellers, and a hanging flap rudder. With a designed speed of 14 knots, these ships meet both EEDI phase three requirements and IMO Tier III standards.
Eco Maestro is slated to undergo meticulous machinery tests in the coming months, before she embarks on her first voyage in Europe in Q2 2024.
The design of the Eco Maestro and its sister ships includes a hatchless configuration. Additionally, the forward placement of the deckhouse and the enclosure of the first deck forward enhance crew living spaces.
Eastway, a constituent of the X-Press Feeders group, initially ordered eight dual-fuel containerships in December 2021, with additional options. A subsequent order for six more ships was placed in June 2023 with CSSC Huangpu Wenchong Shipbuilding. These vessels, designed for ice-class operations in addition to methanol propulsion, will be delivered starting from Q3 2025 to Q3 2026.
"With all 14 such dual-fuel ships to be in full deployment by Q3 2026, we look forward to working with our partners to lead the change towards a greener and cleaner shipping industry," X-Press Feeders said.
X-Press Feeders has also signed an off-take agreement with OCI-Global for green methanol. OCI Global, in collaboration with Unibarge, is retrofitting a bunker barge to supply green methanol in Rotterdam, commencing in 2024.
X-Press Feeders has set a target of net-zero emissions by 2050, aiming to be 'The Greener Feeder Carrier Of Choice'.
In a determined bid to match the rapid progress of shipbuilding powerhouse South Korea, China is fervently advancing its efforts in the construction of alternatively-powered vessels, with a particular focus on methanol propulsion.
As methanol gains prominence as the prime choice for modern containerships, China is steadfastly positioning itself to be at the forefront of this innovative wave in maritime technology.