China trials LNG delivery via containership
China's efforts to secure a stable supply of natural gas during the coming winter have pushed the market players to explore new avenues of supply.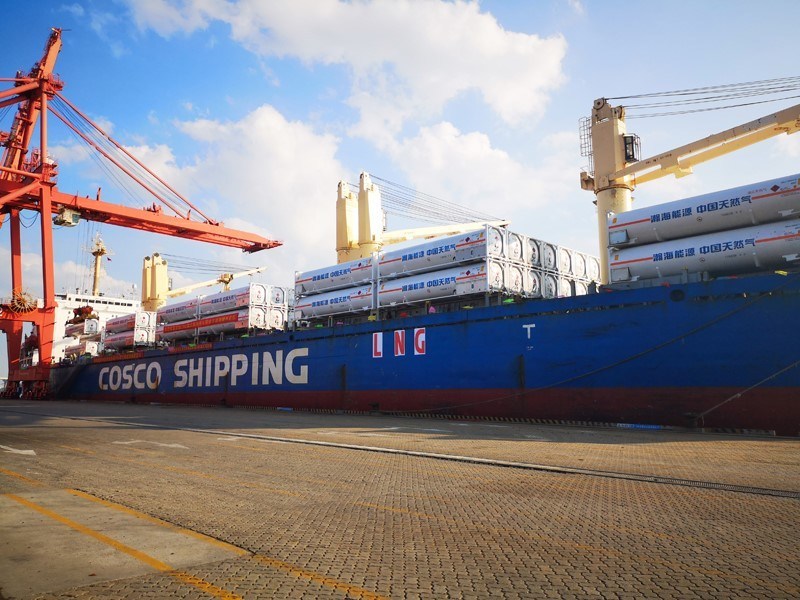 In a new attempt to alleviate gas shortages in the North, China's National Development and Reform Commission (NDRC), National Energy Administration (NEA) and Ministry of Transport (MOT), approved a trial project to deliver surplus capacity of Hainan terminal to its northern part via LNG tank containers on a feeder container ship.
The vessel was loaded with 130 LNG tank containers developed by CIMC Enric and departed the Port of Yangpu in the Hainan province towards Port of Jinzhou.
Regasified volumes of natural gas from a single LNG tank reaches 25,000 cubic meters, China International Marine Containers (CIMC) said in its statement.
China has seen an explosive growth of natural gas consumption over the years, and it is challenging to meet the country's demand for natural gas, especially in the heating season.
According to Wood Mackenzie, China's LNG imports are forecast at nearly 50 million metric tons in 2018, an increase of 12 million tons over 2017.
In its latest market report, International Energy Agency said that China will become the world's largest importer of natural gas, and by 2023, it will import 171 billion cubic meters of natural gas, with LNG accounting for more than 50 percent of the total imports.
However, the country's LNG infrastructure is mostly located in the southern region and in order to cater for the natural gas demand in the north, LNG had to be trucked from LNG import terminals.
"This can only help a little in alleviating natural gas shortages in the heating season in the country's northern part. Therefore, the south-to-north natural gas transportation means a lot for China and it is a strategically important link in building the natural gas production, supply, storage and marketing system," Yongsheng Xu, general manager of Nantong CIMC Energy Equipment said.
The company noted that if such intermodal transport works on a large scale and gets commercialized, it will extend to inland markets. The new LNG tank container transportation model can be further extended to railway, road and water transportation further improving the country's natural gas storage and supply capacity, CIMC said.