China's first hydrogen fuel cell-powered boat hits the water
In a significant step towards sustainable and decarbonized shipping, China has launched its first-ever hydrogen fuel cell-powered boat.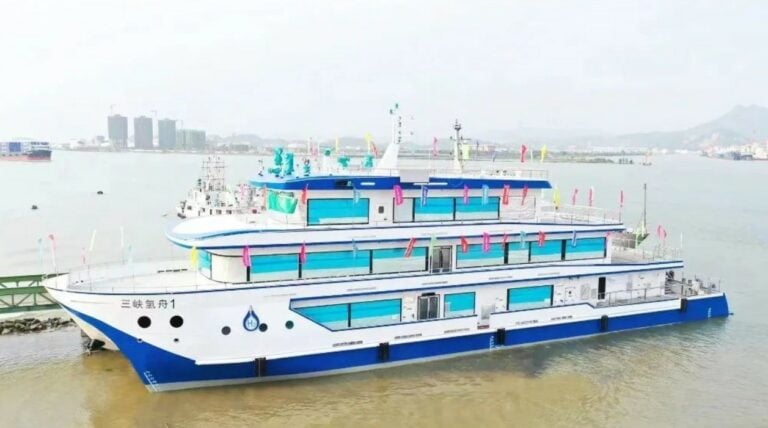 The vessel named 'Three Gorges Hydrogen Boat No. 1' was launched on March 17, in Guangdong, China. The vessel was built by Jianglong Shipbuilding Co. Ltd. for Yangtze Power Co. and the boat sets a new standard for inland waterways ships, shifting towards zero pollution and zero emissions.
The Three Gorges Hydrogen Boat No. 1, a 49.9-meter-long and 10.4-meter-wide passenger catamaran, has a maximum speed of 28 km/h. The boat is powered by a 500 kW hydrogen fuel cell, working in tandem with an 1800 kW·h lithium battery system.
The inland catamaran was inspected and classed by China Classification Society.
The vessel has been designed to meet the Class B service area and Class J2 service section of inland waterways, with a main hull of steel and superstructures of aluminum and glass curtain wall construction.
Wuhan Changjiang Ship Design Institute is responsible for the vessel design and 712 Research Institute of China Shipping Group Co. has designed the fuel cell system and lithium battery system.
The vessel has a maximum cruise range of 200 km at economic speed. In addition, the vessel has been described as having lower energy consumption and producing less noise.
The boat has obtained several class notations, including FC-POWER 1, Green Ship-3, I-ship (M), EEDI-3, and Electrical Propulsion System. These certifications reflect the vessel's high standards in terms of energy efficiency, environmental performance, and technological innovation, earning it a higher green and intelligent ship rating, CCS said.
To support the widespread application of hydrogen energy in the Three Gorges waters, China's Three Gorges Corporation has invested heavily in the construction of shore-based hydrogen stations to ensure the transfer of hydrogen to ships.
CCS said that the use of hydrogen fuel cells would provide an important theoretical basis and data support for the subsequent promotion of hydrogen fuel cell boats in China, adding that the boat will also provide an important experimental platform for the testing of hydrogen fuel cell technology in the maritime industry.