CMA CGM: 32 vessels are running on B30 biofuels
French container shipping major CMA CGM is bunkering biofuels on 32 vessels across its vast fleet as part of its decarbonization efforts.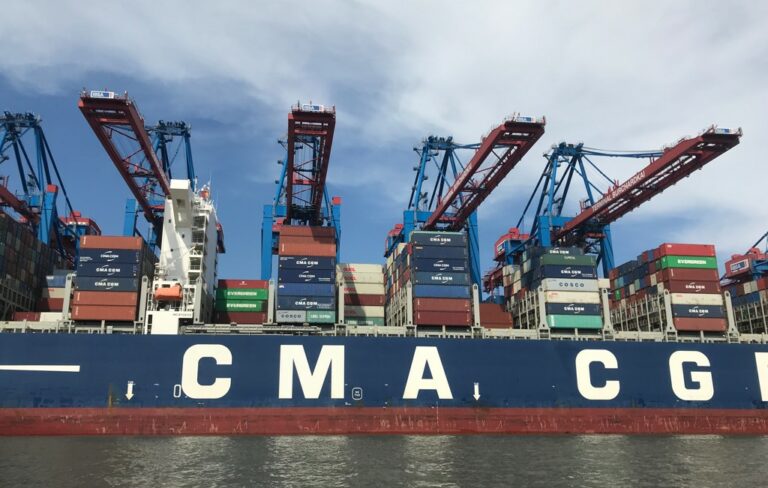 "Biofuel is a big part of our roadmap to decarbonization," Francois-Xavier Accard, Managing Director of CMA CGM's International Shipping Company Pte. Ltd. said during a recent webinar hosted by DNV Maritime on the Decarbonization of the Existing fleet.
The company started testing biofuels in 2019 to see whether they were compatible with the engines on the company's ships. CMA CGM started using B25 biofuel and moved to B50 in 2020.
As explained by Accard, with the regulatory clearance of the use of biofuel blends of up to 30 percent (B30) from last year, CMA CGM has 32 vessels running on B30.
To remind, a Unified Interpretation (UI) approved by the IMO's Marine Environment Committee in June 2022 allows blends containing up to 30% biofuel to be treated the same as fossil fuel oils, without the need for NOx emission assessments or exemptions from Flag State. Additionally, B30 to B100 biofuels can be used in engines certified in accordance with MARPOL Annex VI Regulation 13, as long as there are no changes to NOx critical components or settings.
Scaling-up
CMA CGM launched a wider adoption of biofuels last year in cooperation with the Maritime and Port Authority of Singapore (MPA) as part of its efforts to become a net zero carbon company by 2050.
The project entailed a six-month global trial involving up to 32 containerships running on different blends of biofuel to measure carbon dioxide (CO2) and nitrogen oxide (NOx) emissions in order to obtain a trend analysis.
Some of these vessels were fuelled in Singapore with B24 biofuel, which comprises 24% used cooking oil methyl ester (UCOME) in the advanced biofuel blended with conventional fuels.
The trial included vessels ranging between 2,200 and 10,640 TEUs, which were employed on several trade lanes including Asia-South America, Asia-Africa, Asia-Oceania, Asia-Mediterranean, North Europe–Oceania, and North Europe-North America.
The company's 10,640-TEU vessel, APL Paris, was the first of the group's vessels on trial to be bunkered with biofuel in Singapore on 23 February 2022. Later that year, the company also revealed that its 4,294 TEU CMA CGM Montoir containership was bunkered via ship-to-ship transfer with TotalEnergies-supplied biofuel. TotalEnergies Marine Fuels seeks to become a key biofuel bunker supplier across strategic bunker hubs by 2030.
Biofuels are an easy fuel in the sense of handling and implementation as they can be used on the existing infrastructure. They provide an immediate solution to decarbonize shipping, as they can be blended or dropped into existing conventional fuels with little or no technological developments required on vessels.
However, Accard acknowledges the need for transparency in the supply chain to ensure the origin and quality of the biofuels used.
"Our customers want to know where are we taking the biofuels from," he added, noting that traceability of the origin of the biofuels and their quality standards are of key importance.
To that end, CMA CGM took part in GCMD's recent project studying the transparency of biofuel supply chains.
There are three generations of biodiesel: the first generation biofuel is produced from an existing row crop such as corn ethanol or soy biodiesel, and its potential use for maritime is in direct competition with agriculture; the second generation biofuels are derived from cellulosic biomass such as perennial grasses and the third generation biofuels are to be made from algae.