Contractor picked to recycle Tyra jackets over coming weeks
U.S.-headquartered recycling and decommissioning player Modern American Recycling Services Europe (M.A.R.S.) has been tasked with the recycling of two jackets for the Tyra redevelopment project.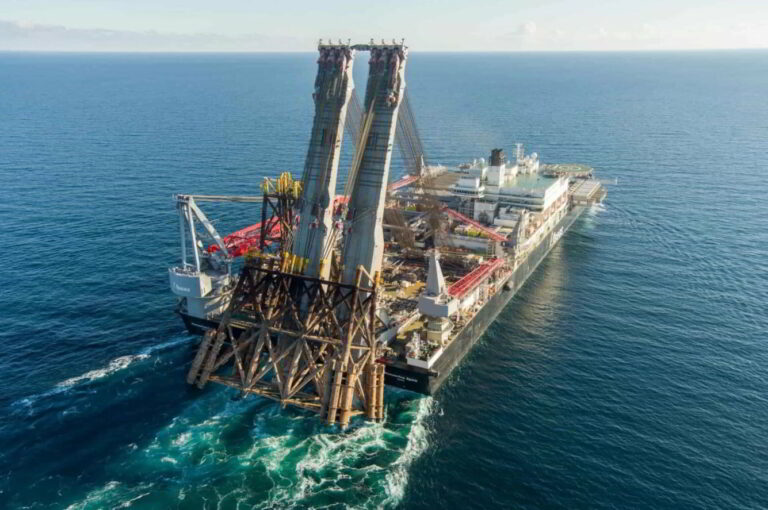 M.A.R.S. revealed on Monday that it was awarded a recycling assignment by Allseas and TotalEnergies, which entails the Tyra West Alpha and East Alpha jackets. This comes a week after Allseas' Pioneering Spirit removed the two jackets from the seabed to take them to Frederikshavn, Denmark for recycling.
The recycling firm confirmed that the jackets arrived on board the Iron Lady at M.A.R.S. Europe in the Port of Frederikshavn on Saturday morning, adding that its team would recycle close to 100 per cent of both jackets directly from the barge over the following 4-6 weeks. M.A.R.S. also recycled Tyra East and Tyra West structures, which were removed by Pioneering Spirit back in August 2020 from the Tyra field on behalf of TotalEnergies EP Danmark and its Danish Underground Consortium (DUC) partners, Noreco and Nordsøfonden.
In a separate post on LinkedIn, the Port of Frederikshavn confirmed the arrival of the barge Iron Lady on Saturday with the two jackets from Tyra East and Tyra West, explaining that the world's largest vessel, Pioneering Spirit, laid last week outside Frederikshavn where the two jackets were lifted onto the barge Iron Lady and sailed to M.A.R.S. in Frederikshavn.
Kim Thygesen, CEO at M.A.R.S. Europe, remarked: "We are proud that Allseas and Total have chosen us for this assignment. The recycling process takes about three to four months and will grant work to 60 people. Iron Lady will be in port during the next four to six weeks, where the two jackets will be lifted ashore."
Regarding the Tyra field in the Danish North Sea, the redeveloped Tyra II is expected to secure continued production of natural gas with 30 per cent less CO2 emissions contributing to the energy security of Denmark and Europe. Once on stream, it is expected to deliver 2.8 billion cubic meters of gas per year which amounts to 80 per cent of the forecasted Danish gas production.