Conversion works on Greece's first FSRU start at Keppel shipyard
Conversion of GasLog's DNV-classed LNG carrier Gaslog Chelsea, which was recently renamed as Alexandroupolis, to a floating storage regasification unit (FSRU) has kicked off at the Keppel shipyard in Singapore.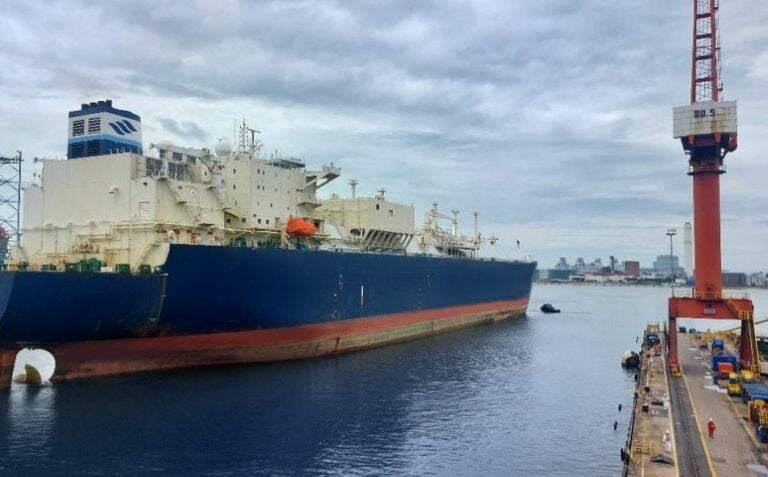 This marks the beginning of the work to develop Greece's first FSRU which will serve as an offshore storage and regasification facility and will be part of the Alexandroupolis Independent Natural Gas System (INGS).
The 155,000 cbm LNG carrier, recently reflagged to the Greek flag, is the first FSRU conversion under the Greek Flag for operation in the Aegean Sea.
The FSRU Alexandroupolis is designed to add a new gateway for natural gas in the Greek and wider Balkan region, improving the region's energy mix and diversifying energy sources to enhance energy security. It is expected to have a regasification capacity of around 8 billion cbm annually.
The vessel is expected to be delivered at the end of 2023 and will be connected to the National Natural Gas Transmission System (NNGΤS) of Greece via a 28-kilometre-long pipeline that will be developed by Corinth Pipeworks, a steel pipes segment of Cenergy Holdings.
Project management consultancy (PMC) services for the Alexandroupolis FSRU will be provided by engineering company Rina and engineering consultancy Asprofos.
The existing LNGC is currently in DNV class. As an offshore-classed FSRU, the vessel will have the following notations: OI Ship-shaped LNG Storage Installation, Field (Alexandroupolis), REGAS(ES), POSMOOR, UWILD, BIS, TMON, Clean, NAUT(OC), NAUTICUS(Newbuilding), ASP(MRU).
Speaking about the beginning of the conversion works, GasLog's COO Kostas Karathanos said: "GasLog believed in the FSRU Alexandroupolis endeavour from the very beginning, and at a time when energy security in Europe was taken for granted.
"We worked patiently and diligently to reach this stage and we are extremely proud to soon offer the first ever FSRU in Greek waters. Through GasLog's renowned high standards of safety and reliability, the FSRU Alexandroupolis will offer energy diversification and security to the wider region and establish GasLog as an integrated provider of natural gas solutions. We are thankful to DNV for their support and partner-mindset throughout the project."
Martin Cartwright, Business Director – Gas Carriers & FSRUs, DNV Maritime, explained that this will be DNV's record 9th FSRU conversion project as a classification society.
"We are extremely proud to be part of a project with such a significant role in the improvement of energy security and autonomy in Greece and entire southeastern Europe", said Leonidas Karystios, Regional Business Development & Gas Segment Director, DNV Maritime. "In DNV we have been providing technical support and risk management consultancy in all phases throughout the project's development, and we are honoured to be the classification partner of this game-changing project."
Follow Offshore Energy's Clean Fuel on social media: