COSCO Shipping Ports Enters Strategic Alliance to Enhance Supply Chain Services
In an effort to boost growth, COSCO Shipping Ports has entered into a strategic alliance with GLP and Eshipping to develop terminal extended services and port supply chain platform.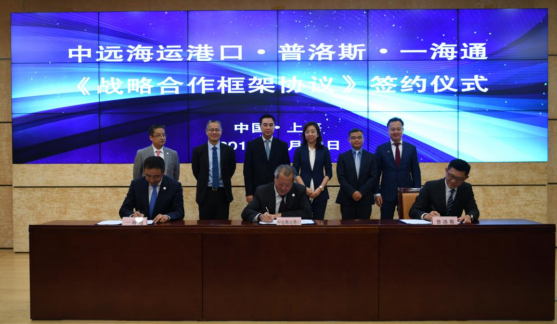 The port operator has signed a cooperation memorandum of understanding (MOU) with GLP China Holdings Limited and Eshipping Global Supply Chain Management (Shenzhen) Company Limited to form a strategic partnership.
As informed, cooperation of the three parties will begin in China at CSP's terminals and gradually expand into its global network.
"The development of terminal extended services and port supply chain platform will be a new growth driver for COSCO SHIPPING Ports and the company will put great effort in it. We are happy to form long term strategic partnership with GLP," Huang Xiaowen, Deputy General Manager of China COSCO Shipping Corporation and Chairman of COSCO Shipping Ports and Chairman of Eshipping, said.
"By partnering with GLP and with its experiences in logistic development and operation, CSP can better utilize its existing terminals and lands outside the terminals, and create a new business model and value beyond the limits of traditional seaborne logistics," Zhang Wei, Vice Chairman and Managing Director of COSCO Shipping Ports, commented.
"The team up with Eshipping, an e-commerce supply chain management platform of China COSCO Shipping Corporation, in integrating the upstream and downstream resources along the supply chain and integrated warehousing solutions etc. will enhance the supply chain services of the company," Zhang added.
"The creation of this strategic platform will enhance our cooperation in development and operation of port and logistics infrastructure as well as integrated supply chain solution," Teresa Zhuge, Vice Chairman of GLP China, noted.