COSCO Shipping takes delivery of methanol-ready multi-purpose ship
COSCO Shipping Special Carriers has welcomed into the fleet its second 68,000-ton ice-class multi-purpose pulp ship, named Green Kotka.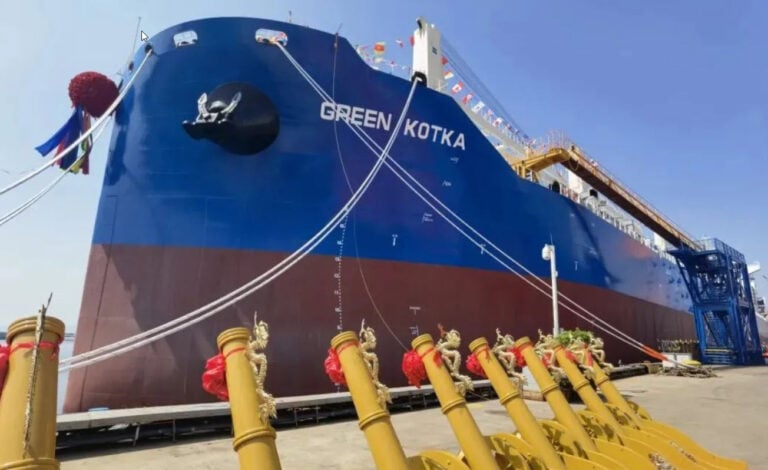 The methanol-ready ship was built by Dalian COSCO KHI Ship Engineering Co., Ltd. (DACKS) shipyard.
The Green Kotka is designed to navigate polar regions efficiently while accommodating diverse cargo, including wind power units, locomotives, and various other goods of varying sizes.
The ship measures 226.8 meters in total length, 32.26 meters in width, and has a molded depth of 19.3 meters. Sporting a design speed of 14.8 knots, the ship carries the CCS B1 ice area symbol and category C polar certificate, allowing it to navigate open waters and oceans with ice layers measuring less than 80 cm.
To facilitate efficient loading, the ship's deck is equipped with four single-unit cranes, capable of accommodating the demands of pulp customers and transporting sizable equipment such as wind power units and locomotives.
To ensure the secure transportation of new energy vehicles, a "one-to-one" temperature detection and early warning system has been incorporated into this ship and the wider series. Furthermore, the vessels adhere to the rigorous environmental standards of the International Convention for the Prevention of Pollution from Ships and the green ship criteria set forth by the China Classification Society (CCS).
In a strategic move towards sustainability, Green Kotka features advanced methanol fuel-related systems, gaining the coveted methanol dual-fuel AIP (Approval in Principle) certificate.
The ship will sail to Victoria Harbor after being loaded with cargo.
The first vessel from the series, Green Kemi, was delivered last month.
COSCO Shipping Specialized Carriers is directing its efforts towards the establishment of a world-class pulp fleet. This includes the development of diverse series of multi-purpose pulp fleets, encompassing various tonnage options such as 68,000 tons, 72,000 tons, 77,000 tons, and 85,000 tons.