Cunard fits entire fleet with shore power capabilities
British luxury cruise line Cunard, part of Carnival Corporation, has enabled its entire fleet to connect to shore power.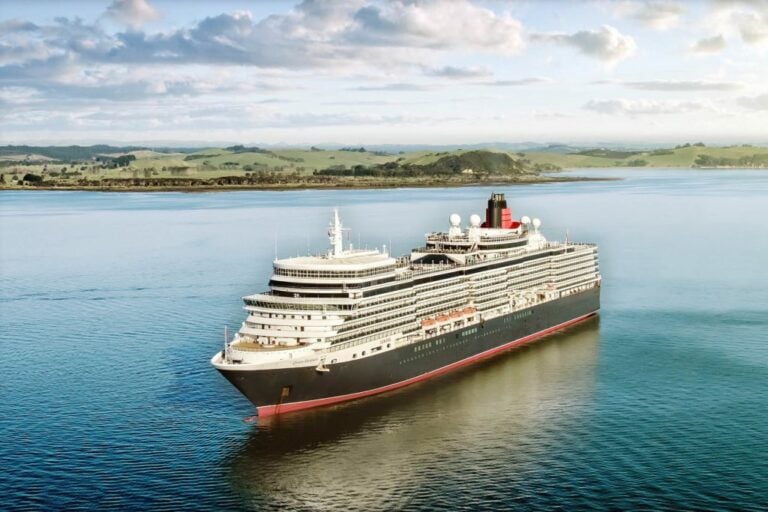 Namely, the company's Queen Elizabeth cruise ship has been fitted with shore power capabilities and now all three Cunard ships – Queen Mary 2, Queen Victoria, and Queen Elizabeth – have the ability to plug into shore power, where available. The line's newest ship, Queen Anne, set to debut in May 2024, will have the technology installed before her maiden voyage.
Shore power technology enables docked ships to connect directly to a specially fitted land-based source, allowing cruise ships to switch off their on board engines and operate on electricity sourced entirely from the local electrical grid, reducing emissions and noise while at port. The ability for the ships to plug in to local grids already exists at many key ports, including Queen Mary 2's homeport at the Brooklyn Cruise Terminal and Queen Anne's homeport in Southampton, England.
"By adopting shore power technology, we are taking a significant step in our ongoing commitment to reducing emissions, minimizing our carbon footprint, and fostering healthier port environments. The introduction of shore power technology aligns seamlessly with Cunard's corporate vision and values, and we are proud to be able to take such a positive step," Katie McAlister, President at Cunard, said.
Shore power is rapidly gaining ground as a significant step towards reducing emissions and promoting sustainability in the maritime industry across the United States, Europe and Asia.
Denmark's Port of Aarhus, a major cruise destination, inaugurated its first shore power facility for cruise ships on June 20, 2023. The facility allows cruise ships to connect to electricity while docked, enabling them to keep their engines off and significantly cut down on emissions.
Meanwhile, the trend of adopting shore power is not limited to Denmark. The Port Authority of Valencia (APV) in Spain has initiated the drafting and execution of an electrical connection project for ships at the Transversal de Costa-MSC quay. This represents a significant move towards decarbonization as part of Valenciaport's commitment to achieving zero emissions by 2030.
Furthermore, Japan has formed a Promotion Council for Zero Emission Chargers for Ships, comprising various industry stakeholders, with the aim of encouraging the widespread use of standardized shore-to-ship power stations. This initiative falls in line with Japan's goal of carbon neutrality by 2050 and its focus on decarbonizing port areas, which contribute significantly to the nation's CO2 emissions. The council plans to develop a standardized universal zero-emission charger system for ships, aiming to expand these chargers to ports and marinas nationwide as well as overseas.
For the first phase, by fiscal 2025, the companies plan to install prototype standardized universal zero emission chargers for ships in Hanshin Port and Keihin Port, which are international strategic ports where domestic and foreign freight and ships are concentrated.