Dalian cuts steel for MSC's LNG-powered 16,000 TEU boxship
Dalian Shipbuilding (DSIC), a subsidiary of China State Shipbuilding Corporation (CSSC), has kicked off construction of another LNG-powered 16,000 TEU containership for Swiss shipping giant Mediterranean Shipping Company (MSC).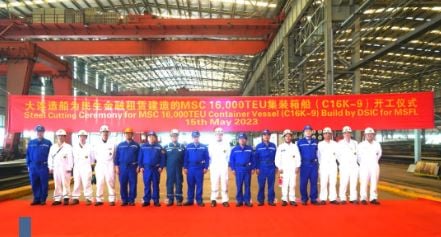 The construction of the ship began on 15 May with the steel-cutting ceremony at DSIC's Tianjin Base.
The ship has a total length of about 366 metres, a molded width of 51 metres and a molded depth of 30.2 metres. It can carry 16,196 standard containers.
According to the shipbuilder, the vessel's main engine is equipped with iCER-diesel green energy-saving system and the auxiliary generator is equipped with a low-pressure SCR system, which meets Tier III nitrogen oxide emission requirements.
The ship's main engine, auxiliary generator set, and auxiliary boiler are all equipped with a dual-fuel supply system, which can burn low-sulfur fuel oil and LNG gas fuel to meet the emission requirements of sulfur oxides. The B-type LNG fuel tank is independently designed and built by Dalian Shipbuilding, with independent intellectual property rights.
At the same time, the ship comes with various energy-saving equipment such as an air lubrication drag reduction system, a shaft generator, and an energy-saving guide wheel in front of the propeller.
In another milestone for MSC, Hudong-Zhonghua Shipbuilding, a CSSC's subsidiary, in collaboration with China Shipbuilding Trading Co., Ltd. (CSTC) has just hosted a naming and delivery ceremony for the 24,000 TEU container vessel, MSC Gemma.
Construction of LNG dual-fuel containerships for other European shipping heavyweights is in full swing at Chinese shipyards.
Hudong-Zhonghua Shipbuilding launched the first 13,000 TEU containership powered by LNG for French shipping giant CMA CGM on 15 May, the same day when the construction of MSC's 16,000 TEU boxship began at DSIC.