Dalian Shipbuilding delivers LNG-ready 16K TEU containership to MSC
Dalian Shipbuilding, a subsidiary of China State Shipbuilding Corporation, has delivered a 16,000TEU container ship to MSC Mediterranean Shipping Company named MSC Vivienne.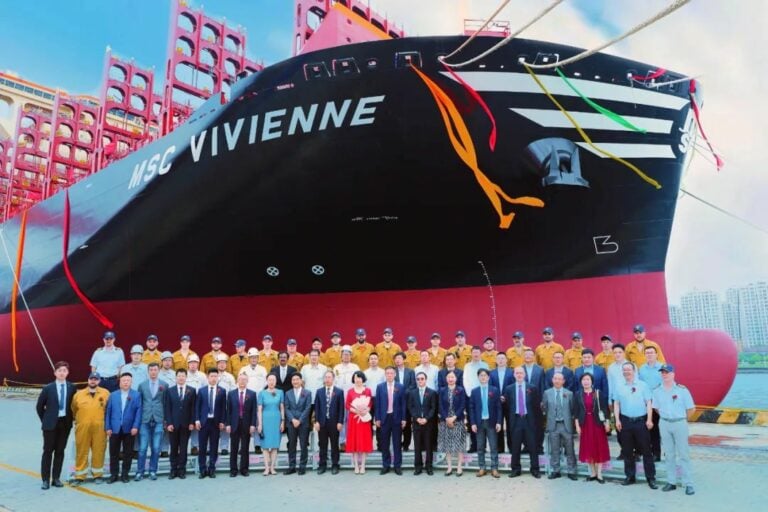 DSIC said that the containership features numerous energy-saving and environmentally friendly features.
Capable of accommodating 16,520 standard containers, this ship has been given the LNG-ready class notation, which means that its design enables it to be easily converted to run on LNG.
Initially, the ship is expected to sail on conventional fuel. However, the DNV-classed ship is equipped with a hybrid exhaust gas cleaning system (scrubber).
The New Panamax containership features dual islands at its fore and aft, making it adept for traversing expansive maritime domains without constraint. The design of the ship integrates fortified fire protection measures, and a one-man pilot system.
The LNG-ready boxship is fitted with an air lubrication system and alternative marine power enabling to connect to shore power.
Liberia-flagged MSC Vivienne boasts a total length of approximately 366 meters, a molded width of 51 meters, a molded depth of 30.2 meters, a design draft of 14.5 meters, and a structural draft of 17 meters.
Its main engine is WinGD's low-speed electronically controlled two-stroke diesel engine.
The main engine of the vessel is equipped with high-pressure Selective Catalytic Reduction (SCR) which reduces NOx exhaust emissions making the vessel compliant with the IMO Tier III emission and energy efficiency design index (EEDI).
MSC Vivienne is the second vessel from the series delivered this year from Dalian to MSC. The first ship, MSC Chiyo, was named and delivered in June.