Damen gets class and flag state approval for methanol-fueled workboats
Dutch shipbuilder Damen has won approval in principle for designs of methanol-powered compact vessels from the classification society Bureau Veritas and Dutch and Belgian flag authorities.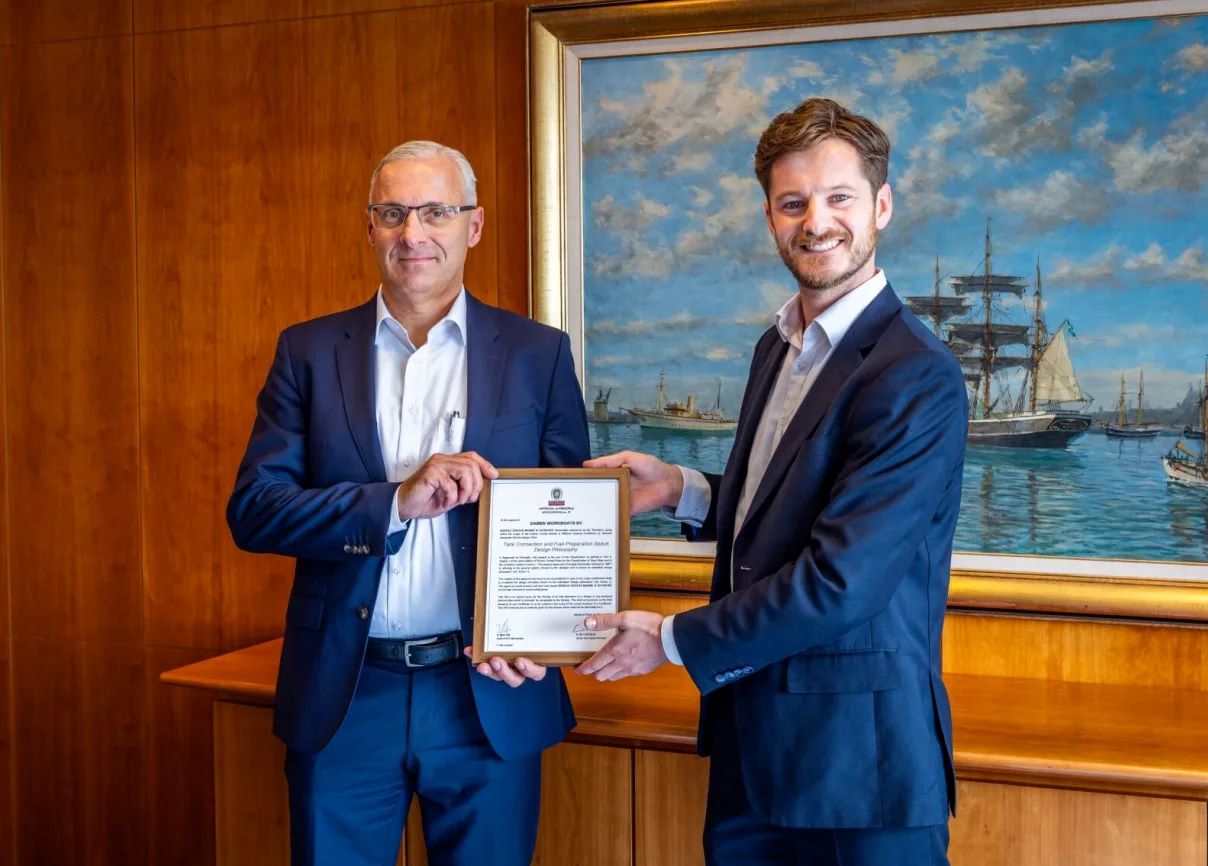 The company said that it now offers designs for a wide range of methanol-powered workboats. The designs are a result of close cooperation with Bureau Veritas and later with the Dutch and Belgian flag authorities.
The framework lays out the design modifications that are required to ensure that the methanol-powered workboats have standards of safety at least equal to their diesel-fuelled equivalents.
LNG carriers set the standards for this type of fuel, but their size has resulted in rules that are very different to those required by much smaller vessels, Damen explained.
Part of the process involved identifying existing rules that were not applicable to smaller vessels so they could be replaced with alternative solutions, and then identifying and analyzing the risks.
The Damen team also had an additional goal; to develop standardised solutions that could be used across the workboat portfolio.
 Damen brought on board the flag states of the Netherlands and Belgium as flag states would need to give their own approvals before vessels can be built. The Netherlands and Belgium were selected as among the most likely early adopters of sustainable workboats.
"We are very pleased to now have the approvals in principle," says Pieter Spruijt, Technical Specialist Alternative Fuels and Damen System Owner Methanol Systems.
"One of the interesting outcomes of the design process is that the methanol storage and fuel systems will take up less space than they would have under the prescriptive rules. Small vessels present a real challenge with space at such a premium, but our designs will not only keep the vessels compact, they will also be more sustainable as they will not require additional inputs when being built. This is another step forward in Damen's ambition to be the world's most sustainable shipbuilder." 
"Bureau Veritas had the privilege of assisting Damen in achieving an approval in principle for a modular-based methanol fuel system," said Herman Spilker, Bureau Veritas's Vice President North Europe.
"Several innovative technical solutions for compact ships were devised and successfully underwent the approval and HAZID process under the oversight of the acknowledged Flag States of the Kingdom of the Netherlands and the Kingdom of Belgium. We look forward to assisting Damen in the construction of the inaugural unit."
Damen is developing the methanol-powered tug as part of its sustainability mission. The shipbuilder has already teamed up with U.S.-based engine manufacturer Caterpillar and the official Cat dealer for the Netherlands Pon Power for the joint development of a series of dual-fuel methanol/diesel-powered tugs.
In March this year, Dutch shipbuilding major Damen inked a partnership agreement with Boluda Towage, part of Spain's Boluda Corporación Marítima, aimed at bringing zero-emission tugs to Europe.
The duo plans to launch its first zero-emission tug featuring a Damen RSD-E Tug 2513 design that will be powered by methanol. The two companies are currently working on identifying the potential harbour that will be best matched to its operational profile.
Damen expects to have methanol-powered vessels series production-ready in 2026.