Denmark to harvest full potential of North Sea to ensure independence from Russian fossil fuels
Denmark has decided to speed up its renewable energy production and temporarily boost its gas output from the North Sea fields in a push to secure independence from Russian fossil fuels.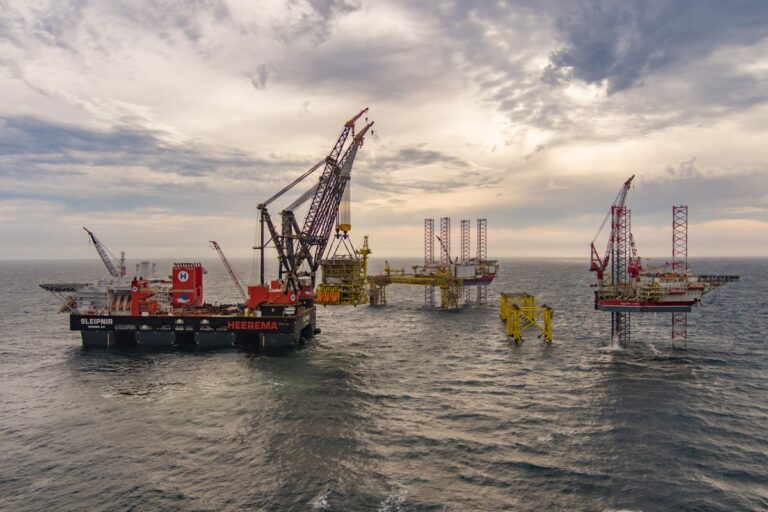 Russia supplies roughly 30 per cent of Europe's gas. In the wake of Russia's invasion of Ukraine, the EU states have been working to secure their independence from Russian fossil fuels with a plan to make them independent well before 2030, starting with gas. The plan also includes accelerating efforts on the energy transition front.
Russia's invasion of Ukraine has left the EU in a new geopolitical situation. Danish Ministry of Climate, Energy, and Utilities believes this has emphasised the urgent need for sustainable solutions and more renewable energy. In an effort to combat this crisis, the EU will seek to diversify gas supplies, speed up the roll-out of renewable gases, and replace gas in heating and power generation. This can reduce EU demand for Russian gas by two thirds before the end of the year.
Meanwhile, the Danish government revealed in a new proposal on Tuesday its aims to harvest the full potential of offshore wind and accelerate the production of renewable energy on land. Furthermore, Denmark will scale up and bring forward the production of renewable gas as well as contribute with natural gas from the North Sea.
Citing Prime Minister, Mette Frederiksen, Reuters reported on Tuesday that Denmark would increase production of natural gas in the North Sea for a limited time period, adding that it is better to produce gas in the North Sea than to buy it from Vladimir Putin.
European companies, like Equinor and Neptune Energy, have also recently committed to ramping up their gas production to meet European demand.
Quoting Climate and Energy Minister, Dan Jorgensen, Reuters also reported that production from existing Danish gas fields in the North Sea could rise by as much as 25 per cent in the short term. However, a notable fact is that the government will not announce new tenders for North Sea production but instead bring forward gas production that had already been licenced.
It is worth reminding that Denmark in late 2020 made a decision to end all existing and future permits for oil and gas extraction by the end of December 2050. As recently reported, the European country is also working to identify the potential for reducing CO2 emissions from domestic oil and gas extraction by electrifying the platforms in the North Sea.
When it comes to existing fields, the TotalEnergies-operated giant Tyra gas field in the Danish sector of the North Sea has been offline since 2019. Following an extensive redevelopment project, the field is expected to re-start production next year, contributing significantly to the country's gas output. The project has recently reached a major milestone following the completion of this spring's installation campaign with seven out of eight platforms now in their final position.
Commenting on the government's latest move, Minister of Climate, Energy, and Utilities, Dan Jørgensen, said: "The North Sea holds the wind potential to cover the energy need of millions of European homes. This great offshore wind potential must be harvested and therefore, the Danish government begins preparations for additional energy islands along with the ones already planned."
According to Denmark's Ministry of Climate, Energy, and Utilities, a provisional estimate shows an initial demand for at least 35 GW of offshore wind from the Danish parts of the North Sea. This is approximately the same amount of offshore wind energy that was installed on a global level in 2020.
Denmark already plans to build the world's first energy island in the North Sea. At maximum capacity, the hub will be able to power 10 million European households with clean energy from its surrounding wind farms.
The ministry has now revealed that another energy hub will be established on the island of Bornholm in the Baltic Sea with a capacity of 2 GW.
Independence from Russian fossil fuels for Denmark also means a swift phase-out of natural gas by increasing the rollout of district heating and installation of electric heat pumps. Furthermore, a green tax reform will contribute to phasing out gas in the industry.
When it comes to global gas demand, the International Energy Agency has recently revised its forecast for this year. The invasion of Ukraine has led to tighter gas supplies, higher prices, and an uncertain outlook, resulting in a downward revision to the IEA's forecast for gas demand this year. The agency said that the world's demand for natural gas was set to decline slightly in 2022 as a result of higher prices and market disruptions caused by Russia's invasion of Ukraine.