DFDS reports greener operations
Danish ferry and logistics company DFDS managed to reduce ferry CO2 emission intensity by 4% in the third quarter of this year thanks to several decarbonization measures being implemented.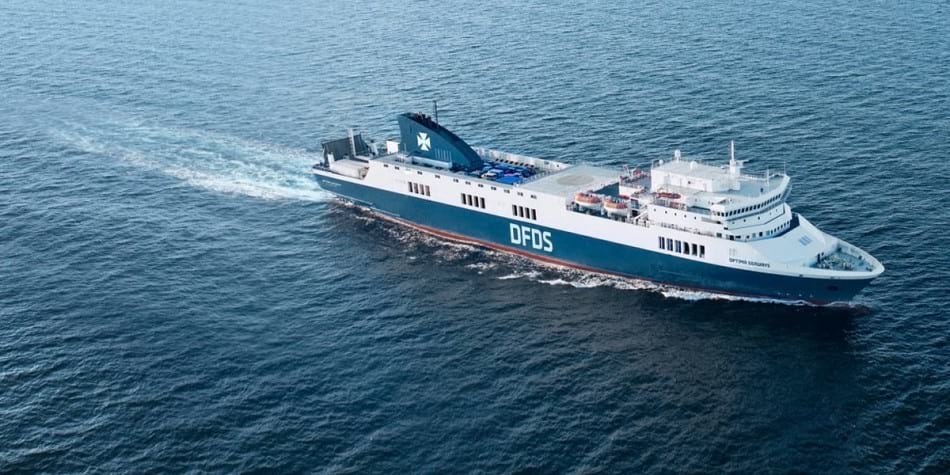 As informed, CO2 emissions per GT nautical mile decreased across the entire route network, including both owned and chartered vessels.
The company's own fleet emissions dropped by 2.4% to 12 gCO2 per GT NM from 12.3 gCO2 per GT NM in Q3 2022.
What is more, emissions from the entire route network decreased by 3.9% to 12.2 gCO2 per GT NM from 12.7 gCO2 per GT NM in Q3 2022.
According to DFDS, short-term emission reductions were achieved by incremental fleet upgrades, including coating hulls with silicone-based antifouling paints and hull modifications.
Additionally, the schedule optimization program continued in the third quarter of 2023 to reduce sailing speed and thereby fuel consumption and CO2 emissions.
The Danish ferry operator has also been testing 100% biofuel on its vessels after acquiring startup firm Mash Energy Aps in 2019.
DFDS has intensified its efforts by looking into other decarbonization solutions, which among others include an electrification project with battery-powered ferries for The Channel.
A month ago, the company revealed plans to deploy a fleet of battery-powered vessels in the English Channel by 2030. The proximity of France and the United Kingdom makes the English Channel an ideal location for electric ferry transport, accelerating the transition towards a more sustainable future for the shipping industry.
The firm recently teamed up with the Port of Dover, Port Boulogne Calais, and Dunkerque-Port to decarbonize maritime traffic on the Dover Strait by establishing green shipping corridors between the UK and France.
Back in 2020, DFDS launched a two-stage climate action plan with a short-term goal of reducing the relative CO2 emissions of its ships by 45% by 2030. Its long-term objective is to achieve carbon neutrality by 2050.
As part of this objective, the company also plans to launch its first vessel no later than 2025 and has been working on the development of a hydrogen ferry.
In the third quarter of 2023, the company reported EBITDA of DKK 1.6 billion ($232.5 million). As explained, EBITDA was on level with Q3 2022 as higher passenger and logistics earnings were offset by lower freight ferry earnings.