Dutch test facilities form research alliance for offshore renewable energy
Backed by the Government of the Netherlands, nine Dutch research institutes and test facilities have joined forces to accelerate the research into offshore renewable energy.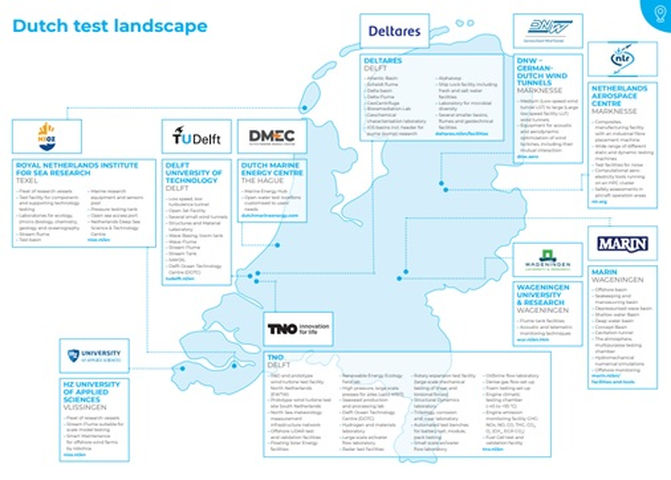 The NL-MARINERG-i consortium will provide significant support to European targets for offshore renewable energy and key priorities such as the Green Deal, according to the consortium.
The support for the consortium by the Dutch Ministry of Economic Affairs and Climate Policy (EZK) emphasises the important role of offshore renewable energy research in reaching Europe's net-zero targets.
NL-MARINERG-i is part of the European MARINERG-i consortium, which has been selected as one of the eleven key priorities of the European research roadmap ESFRI 2021.
Under the lead of Dutch Marine Energy Centre (DMEC) the consortium consists of: Deltares, Maritime Research Institute Netherlands (MARIN), HZ University of Applied Sciences, Royal Netherlands Institute for Sea Research (NIOZ), TNO, Netherlands Aerospace Centre (NLR), DNW German-Dutch Wind Tunnels, TU Delft and Wageningen University & Research.
The team is now embarking on a preparatory phase, establishing the legal, governance, scientific and business components required to implement the MARINERG-i research infrastructure.
Together, the consortium partners are able to provide the full range of facilities for research, development and deployment of offshore renewable energy, from proof of concept to full-scale deployment for production in an open sea test site connected to the grid.
Zsuzsi Faragó, policy officer for energy innovation at EZK, said: "Offshore renewable energy is essential for a successful energy transition in the Netherlands and abroad. In particular offshore wind, which already plays a major role in the Dutch transition to a zero-carbon energy supply and thus has our focus and priority when it comes to the MARINERG-i Distribute Research Infrastructure.
"Within this capacity, our ministry recognises the need for a dedicated Research Infrastructure in offshore renewable energy to accelerate the research, development, and deployment of renewable energy technologies by providing access to state of the art test facilities and expertise across Europe".
Ewa Spiesz, business and innovation advisor at DMEC, added: "The potential of offshore renewable energy is large, but significant research and development challenges remain if this potential is to be fully realised.
"The MARINERG-i consortium, including its Dutch part the NL-MARINERG-i, comprises a large network of marine energy testing facilities across Europe joining forces as a distributed research infrastructure.
"The ambition is to deliver impactful and internationally recognized research and development that supports accelerating offshore energy into a considerable component of the European energy system".