Eco Marine, F-WAVE team up on ship integrated photovoltaic project
Japan-based technology company Eco Marine Power (EMP) announced that it has begun its joint development program with F-WAVE Company (F-WAVE) on new ship integrated photovoltaic (SIPV) solutions.
As informed, EMP's Aquarius Marine Solar Power solution will incorporate F-WAVE's flexible PV panel technology and a customised version will also be fitted to EMP's patented EnergySail for evaluation at the Onomichi Marine Technology Test Centre (MTTC) in Hiroshima Prefecture, Japan.
F-WAVE's flexible solar cells use the Series-Connection through Apertures formed on Film (SCAF) structure allowing a wireless connection with the electrodes, the company said.
This construction also allows the flexible solar cells to absorb a wide solar spectrum.
Additionally, the cells are said to demonstrate high performance in hot weather due in part to the annealing effect, and their efficiency is said to increase compared to the decrease that typically occurs with crystalline cells.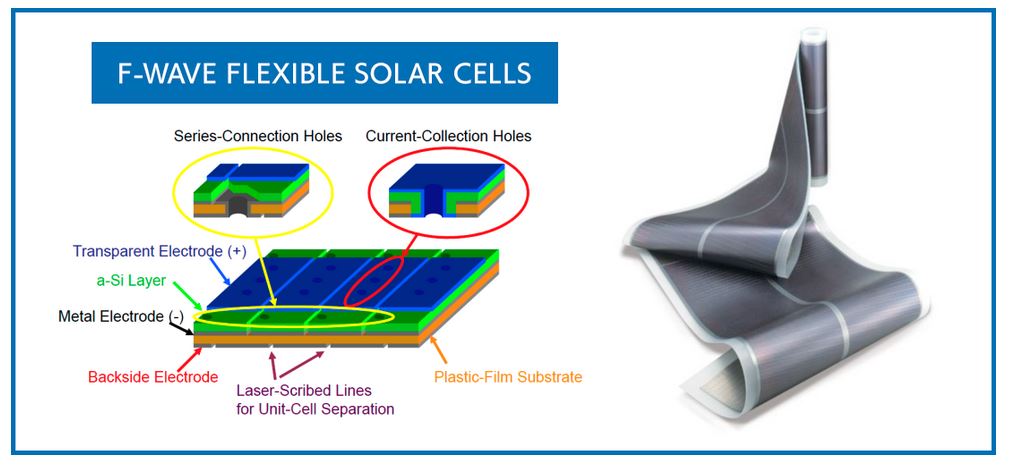 "We look forward to incorporating the patented F-WAVE solar cell technology into the solutions we have developed for shipping & maritime applications and also exploring new ways of integrating photovoltaics into the design and structure of ships," Greg Atkinson, Chief Technology Officer (CTO) at Eco Marine Power announced.
On the other hand, EMP's Aquarius Marine Solar Power is an integrated class-accepted system that includes a marine computer, battery chargers, batteries, marine-grade solar panels plus interfaces to other equipment and sensors.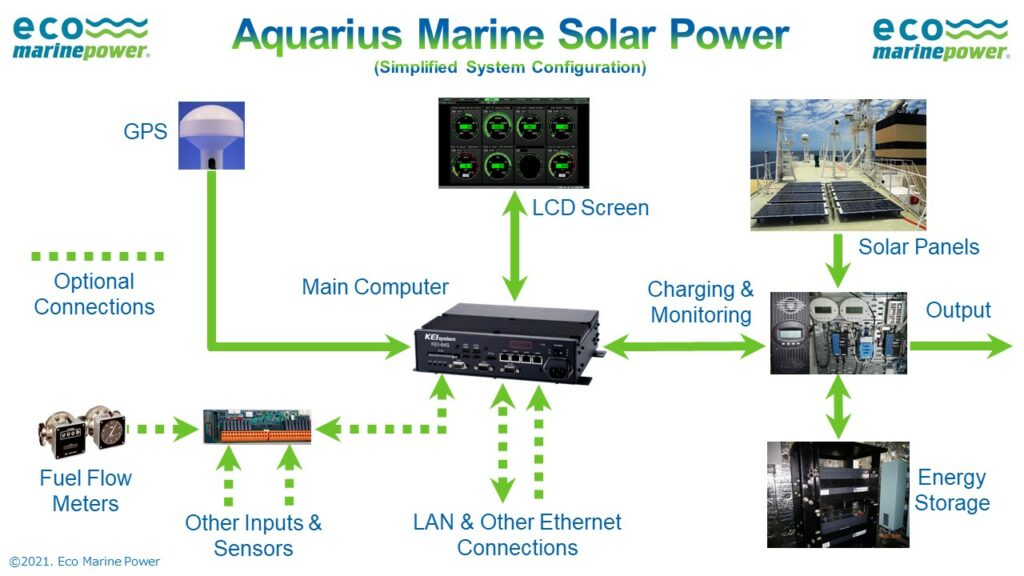 The energy collected by the marine solar panel array(s) or string(s) of photovoltaic (PV) panels can be used to power a DC load, provide a source of back-up or emergency power or be connected to an AC load via an inverter, as stated by the company.
Thus any ship, vessel or offshore platform can tap into the clean and renewable energy provided by the sun.
The main components in this solution include:
KEI 3240 CPU/AGU – for smaller solutions this is optional
10.4 inch LCD colour touch-screen display – for smaller solutions this is optional
Flexible marine grade solar panels
Marine grade mounting frame kits if required.
MPPT charge controllers – 60A and 80A options available.
Batteries or battery pack.
In addition to developing integrated solar solutions for shipping and maritime applications, EMP will promote F-WAVE's products globally so that they can be incorporated into new ship building projects.
As part of ongoing rollout of zero emission power and propulsion solutions for shipping, EMP has also established Eco Marine Power Research Institute (EMPRI).
In February, EMP announced joint partnership with shipping, maritime & technology professionals from several innovation-focused companies working together to achieve EMPRI goals.
Besides EMP, the founding members of the group are the ADNOC Logistics and Services, ZEABORN Ship Management Pte. Ltd. (Singapore), StarBulk, The Furukawa Battery Company and Teramoto Iron Works.
Other member companies from inside and outside shipping will also be sought during the year.
The group will focus on the exchange of ideas and solutions related to energy transition and shipping.