EPS inks several MoUs on development of ammonia dual-fuel vessels
Singapore's Eastern Pacific Shipping (EPS), German MAN Energy Solutions (MAN ES), South Korea's HD Hyundai Heavy Industries (HHI) and yards from the China State Shipbuilding Corporation (CSSC) have announced a collaboration on the development of ammonia-burning engine that will be fitted to a new fleet of EPS-managed vessels, catalysing efforts towards the industry's net zero CO2 emission targets.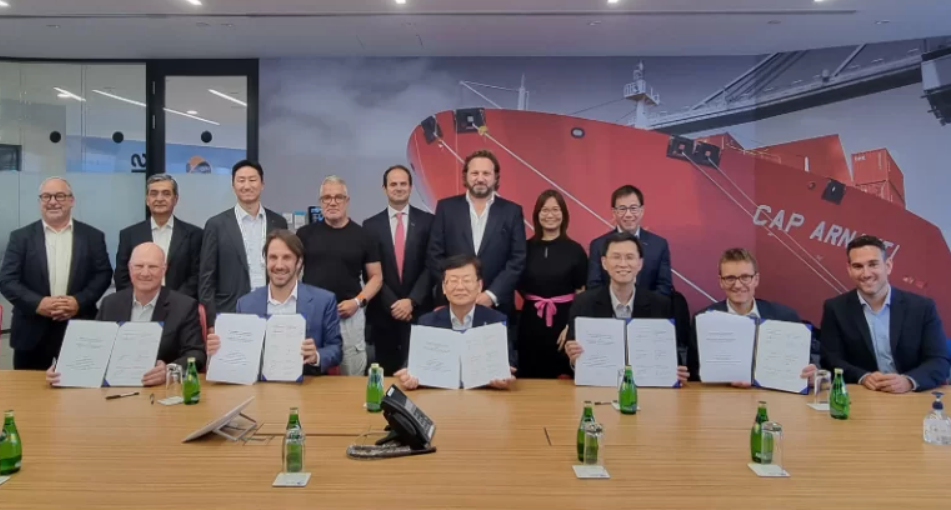 The companies signed three memorandums of understanding (MoUs), which according to EPS, demonstrate the organizations' 'act-now' approach to decarbonization and environmental preservation.
Joining EPS and MAN ES in signing one of the MoUs are the Maritime and Port Authority of Singapore (MPA) and the American Bureau of Shipping (ABS), and in the other two MoUs, Lloyd's Register, Qingdao Beihai Shipyard, where the EPS-managed Newcastlemaxes will be built, and Jiangnan Shipyard, where the EPS-managed VLACs will be built, all of which will be fitted with the MAN ES ammonia engines.
Commenting on the MoUs, EPS CEO Cyril Ducau said: "We have been talking about energy transition and lowering emissions for years. Today, we are ready to talk about zero-emission solutions. The ammonia engines by MAN ES will be an inflection point for the maritime industry. In the next few years, we expect to operate vessels with significantly reduced emissions running on ammonia."
"Dual-fuel engines like LNG, LPG and ethane will still play a significant role in various segments. However, with this engine, it will mean that this will be the first time that ocean-going vessels will take a significant step towards zero carbon emissions. This is an extremely exciting time for all of us."
MAN ES Senior Vice President and Head of Two-Stroke Bjarne Foldager noted: "This is a significant milestone for MAN ES, EPS and the maritime industry. Together, we will show that ammonia is a commercially viable option for ship owners and managers to become IMO compliant years ahead of schedule."
MPA Chief Executive Teo Eng Dih commented as well: "MPA is actively investigating the use of ammonia for international shipping and is glad to be part of this collaborative effort. The next few years will be critical as we work with partners to examine ways to de-risk the application and operation for ammonia-fuelled vessels, and enhance the development of low and zero-carbon solutions."
"We look forward to working closely with EPS and partners to study the ammonia engine design and operations to support the development of new safety guidelines and standards, port preparations, training and emergency response plans."
To remind, this announcement came a year after EPS, HHI and ABS signed a similar MoU for the construction of a series of mid or large gas carriers.