Ferguson Marine to Build World's First Renewables-Powered Hydrogen Ferry
Port-Glasgow-based shipyard Ferguson Marine is to develop the world's first renewables-powered hydrogen ferry – HySeas III.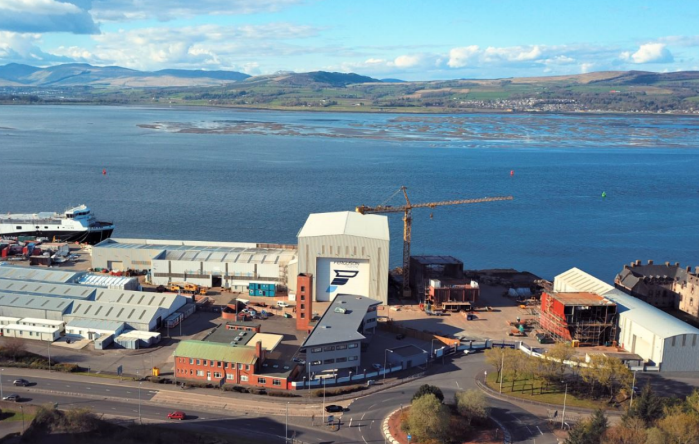 As informed, the shipyard and its European partners won a bid for EU funding support that would enable the building and launch of the world's first sea-going car and passenger ferry fuelled by hydrogen.
The supported development is expected to cost around EUR 12.6 million (around USD 14.6) of which EUR 9.3 million has been awarded by the European Union's Horizon 2020 research and innovation fund.
Scheduled to begin on July 1, the project, which is led by Ferguson Marine and the University of St Andrews, includes Orkney Islands Council, Kongsberg Maritime, Ballard Power Systems Europe, McPhy, DLR – German Aerospace Center, and Interferry.
"It's a very timely collaboration, given that the International Maritime Organization reached an accord in April requiring a 50% reduction in maritime CO2 emissions by 2050. Hydrogen raises the extremely interesting possibility of a long-range, CO2-free option," Johan Roos, Regulatory Affairs Director at Interferry, commented.
The vessel's fuel will be produced from renewable electricity marking a paradigm shift towards entirely emissions-free marine transport, the companies said in a joint statement. Employing Ballard technology, the initial objective is to construct and prove the vessel's modular drive train onshore, testing for stress and durability under conditions employing real-world data from existing vessels. The successful test will allow a vessel to be constructed.
The vessel is planned to operate in and around Orkney – which is already producing hydrogen in volume from constrained – and hence otherwise wasted – renewable energy.
"Over recent years Ferguson Marine has been at the global forefront of green marine propulsion technology development. This exciting project is yet another positive step on that journey and puts us firmly on track to deliver the world's first zero emission, hydrogen fuel cell powered commercial ROPAX ferry in 2020," Chris Dunn, Chief Naval Architect at Ferguson Marine, said.
"This opens the real possibility of Scotland and her key European partners delivering another world-first not simply in ship-building but also in building sustainable local sources of fuelling in parallel," Dr. Martin Smith from the University of St. Andrews and Project Coordinator said.
Jim McColl OBE, whose Clyde Blowers Capital now owns the once-threatened shipyard, commented: "Ferguson's was the last full-service commercial shipyard on in the River Clyde. Since taking over in 2014, we have invested GBP 25 million to bring the yard up to the world-class standards with a new, skilled workforce, that has provided the confidence in leading this hugely important, ground-breaking project."
Previously in 2012, Ferguson's launched the MV Hallaig, the world's first ever battery hybrid ferry. The redeveloped yard achieved another first in November 2017 when it launched the MV Glen Sannox, the first UK ferry build with dual-fuel capability –marine diesel & LNG. The Glen Sannox' sister vessel is currently under construction at the shipyard.
The University of St Andrews is home to research and development in hydrogen, battery and other energy technologies. A key part of the development aspect is the transferal of knowledge and expertise into real-world applications.
Dr. Smith from the University, along with Jim Anderson at Caledonian Maritime Assets Limited (CMAL) initiated the HySeas programme in 2012. Support from Scottish Enterprise allowed the idea to be taken from an early feasibility study to the point where the focus can now shift into test and delivery.