Final countdown starts for mint Cape Sharp Tidal turbine splash
A so-called 'dry' Cape Sharp Tidal turbine – denoting the fact it was never before deployed in sea – has been towed by the Atlantic Osprey vessel across the Bay of Fundy where it will be installed shortly.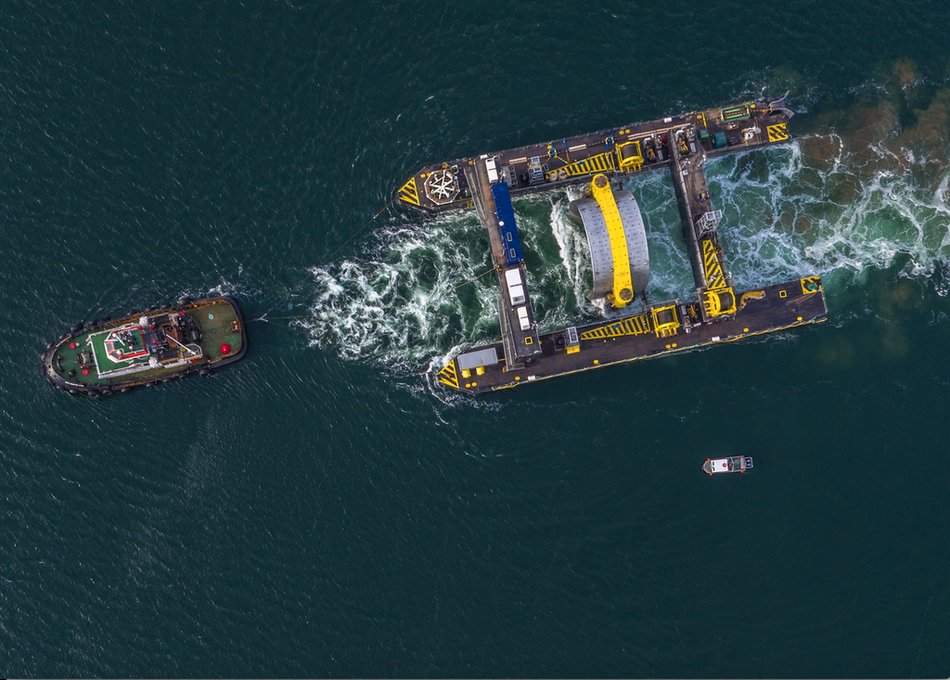 The 'deployment ready' tidal turbine left Port Saint John aboard purpose-built Scotia Tide Barge for its testing berth at the Fundy Ocean Research Center for Energy (FORCE) on July 18, 2018, according to Wayne Power, Vice President of J.D. Irving Transportation and Logistics Division.
The 2MW-rated turbine passed a detailed inspection at Port Saint John that involved modifications to the components on its electrical sub-system attached to the subsea base and connected to the turbine, known as the turbine control center (TCC).
"We will be carrying out deployment operations at FORCE site over several days starting July 19, 2018. It is important to note that weather could play a factor in the actual start and/or completion date, and this has been considered as part of the overall deployment schedule," the spokeswoman for Cape Sharp Tidal said in a statement.
The maintenance, also conducted on a similar tidal turbine that already confronted the tides of Minas Passage last year, is related to a malfunctioning part identified in August 2016 which threatened the long-term performance and reliability of the turbines.
Cape Sharp Tidal – a joint venture between Emera and OpenHydro – conducted marine operations at the FORCE site earlier in the year, to prepare the site for the deployment. The activities included recovery of an old mooring, positioning trials, and subsea cable testing, according to FORCE.
The joint venture is using OpenHydro's in-stream tidal turbines whose design is based around four key components including a horizontal axis rotor, magnet generator, hydrodynamic duct and subsea gravity base foundation.
The turbine is 16 meters in diameter, weighs 1,000 tonnes and stands 21 meters high, with 10 fins mounted on the rotor spinning 6-8 times in a minute on average – taking 10 seconds to complete one full rotation at that speed.
The in-stream turbine sits directly in the water flow that moves the fins, which in turn cause the rotor to turn producing power.
The technology is completely different technology from the turbines used in dam tidal and hydro power sites, Cape Sharp Tidal noted.