Fire-stricken Fremantle Highway safely reaches port of refuge in Eemshaven
The freighter Fremantle Highway has successfully arrived at the quay in Eemshaven, putting an end to its tumultuous journey after experiencing a fire onboard on July 25.
The tug trip to the harbor was executed flawlessly, with no reported issues or complications.
The journey of the fire-damaged freighter Fremantle Highway to Eemshaven commenced in the early hours of Thursday morning around 5 a.m., and was completed at around 02:30 p.m. local time.
Moving forward, the ship's owner assumes full responsibility for the cargo and all related matters. Rijkswaterstaat's involvement in handling the incident has concluded, although they will continue to monitor and ensure water quality remains unaffected.
As part of precautionary measures, if deemed necessary, an oil-conducting screen will be deployed around the vessel to minimize any potential contamination. In this regard, all involved stakeholders, including Groningen Seaports, Groningen Security Region, and the municipality of Het Hogeland, are maintaining close communication to coordinate the further course of action in response to the incident.
Now that the ship is docked, the next steps are being determined, the Groningen seaports said in an update. Fremantle Highway is now expected to commence with the unloading of its cargo, once it receives all clearances. More information is expected to be provided on the damage sustained by the ship as a result of the fire as well as plans for the vessel repair.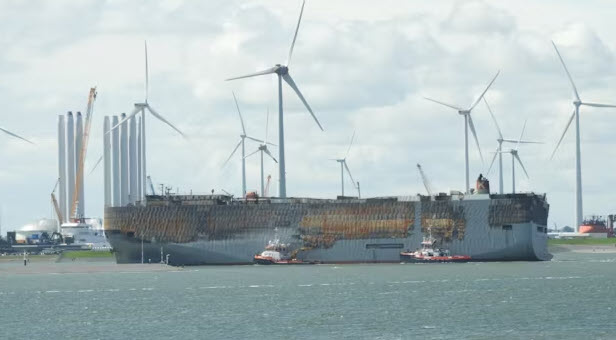 The car carrier, loaded with nearly 3,000 vehicles, caught fire on July 25 while sailing approximately 27 kilometers north of Ameland, a northern Dutch island. In response to the incident, the 23 crew members on board were evacuated, tragically resulting in one reported fatality. Of the remaining crew, 22 were hospitalized, with 20 discharged as of July 30. The captain and pilot are still undergoing treatment.
To minimize disruptions to other shipping traffic during the assessment, the fire-damaged vessel was towed to a temporary anchorage about 16 km above Schiermonnikoog and Ameland. Local salvage companies, Multraship and Smit Salvage, carried out the salvage operation.
According to Japanese ship owner Shoei Kisen, owner of the ill-fated car carrier, the cause of the fire remains unknown and the company is planning to investigate the cause of the incident with relevant parties.