First US Marine Energy Collegiate Competition Starts in May
The U.S. Department of Energy (DOE) is hosting a challenge for university students to advance marine energy.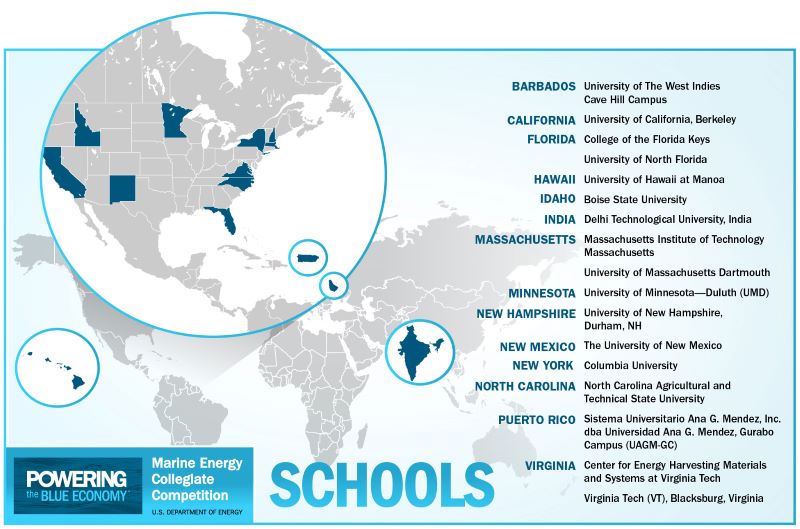 The DOE Water Power Technologies Office will host the first Marine Energy Collegiate Competition (MECC) designed to challenge interdisciplinary teams of undergraduate and graduate students to offer unique solutions to the burgeoning marine energy industry that can play a vital role in powering the blue economy.
The inaugural MECC will be held in conjunction with the International Conference on Ocean Energy (ICOE) in Washington, DC, on May 19-20, 2020.
The competition will provide students with real-world experience and industry connections that will help them prepare for future careers in the marine energy sector and the blue economy. Jobs in the blue economy include researchers, scientists, engineers, educators, project managers, business and sales forces, and many others, and include several sub-industries. While few institutions offer marine-specific advanced degrees, having related experience is considered highly valuable to the industry.
Marine energy has the potential to provide reliable power to the blue economy, but further work is needed to optimize designs and reduce costs. The competition's objectives are to bring together diverse groups of students from multiple disciplines to explore opportunities for marine energy technologies to benefit other existing maritime industries via real-world concept development experiences.
Teams of undergraduate and graduate students will get real-world experience exploring these innovative marine energy solutions to address power needs across the blue economy. Students will:
Develop a 15- to 25-page market research-supported business plan and conceptual-level technical design of a marketable device that powers a sector of the blue economy;
Present a 15-minute public pitch that will be shared at the International Conference on Ocean Energy (ICOE) 2020;
Create a nonworking yet visually representative table-top scale model of the technology concept to be displayed at ICOE 2020, along with a poster summarizing the technical and business plans.