FlagshipONE to use Siemens Energy technology for e-fuel production
FlagshipONE plant, expected to be Europe's largest commercial production facility for carbon-neutral marine fuels, will use a technology package from German company Siemens Energy.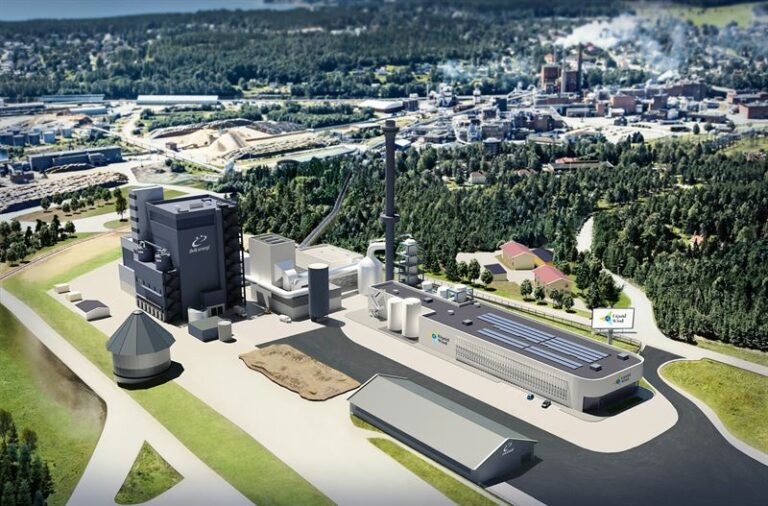 The package comprises four proton exchange membrane (PEM) electrolysers with a total capacity of 70 megawatts (MW), as well as the plant-wide electrification and automation systems, including innovative digitalisation solutions (such as the use of digital twins), and the entire power distribution and compressor systems.
The plant, being built in the Swedish coastal town of Örnsköldsvik by Danish energy company Ørsted, is expected to produce up to 50,000 metric tonnes of e-methanol per year from renewable energy and biogenic carbon dioxide from 2025.
According to Siemens Energy, Ørsted's plant represents the start of commercial production of carbon-neutral e-methanol in Europe, and will act as a blueprint that can be scaled and replicated at other locations, in Sweden and elsewhere.
Siemens Energy said that FlagshipONE uses renewable electricity to produce green hydrogen using its electrolysers. A further stage in the synthesis process brings in biogenic carbon dioxide from a nearby biomass-fired combined heat and power station, and the resulting e-methanol is a CO2-neutral electrofuel that is easy to store and transport.
The e-methanol from FlagshipONE will be used in state-of-the-art 'dual-fuel' ship engines, either alone or as an admixture to conventional fuel, and contribute towards the decarbonisation of international maritime transportation, which accounts for 3% of global carbon emissions, the company noted.
Anne-Laure de Chammard, Member of the Executive Board for Transformation of Industry at Siemens Energy, said: "Without hydrogen or alternative fuels such as e-methanol, there will be no energy transition. We need to ramp up these novel industries as quickly as possible, which in turn requires economically viable business models and private investment. Groundbreaking projects like this are important to finally move from talk to action."
Anders Nordstrøm, COO of Ørsted P2X, said: "At Ørsted, we want to create a world that runs entirely on green energy, and we believe that partnerships will be key to accelerate and develop the power-to-x solutions needed for the hard-to-electrify sectors. Siemens Energy is already a partner of Ørsted in our various renewable energy businesses, and I'm pleased that we now extend this longstanding partnership to power-to-x as well."
In February 2023, Carbon Clean secured a contract to supply carbon capture equipment for FlagshipONE.
To note, the Swedish company Liquid Wind AB, which develops replicable facilities to produce e-fuel, is the original developer of FlagshipONE.
Ørsted acquired full ownership of the project from Liquid Wind in December 2022 when it also made a final investment decision (FID).
Another plant named FlagshipTWO is already being developed by Liquid Wind and will be able to supply 100,000 metric tonnes of e-methanol to the market using a 140-MW capacity electrolyser.
In January 2023, Liquid Wind revealed its plan to establish the country's third electrofuel facility for the maritime sector. This facility is expected to produce 100,000 tonnes of green electrofuel for the maritime industry per year and capture 230,000 tonnes of carbon dioxide annually.
The company has plans to develop multiple facilities in Scandinavia by 2030.