H2U, Vopak to work on Gladstone green hydrogen and ammonia export project
The Hydrogen Utility (H2U), an Australia-based developer of green hydrogen infrastructure, and Vopak Terminals Australia, a wholly-owned subsidiary of tank storage company Royal Vopak, have started a collaboration in relation to H2U's H2-Hub project, a multi-billion renewable energy complex producing green hydrogen and green ammonia, proposed to be established in Gladstone, Queensland, Australia.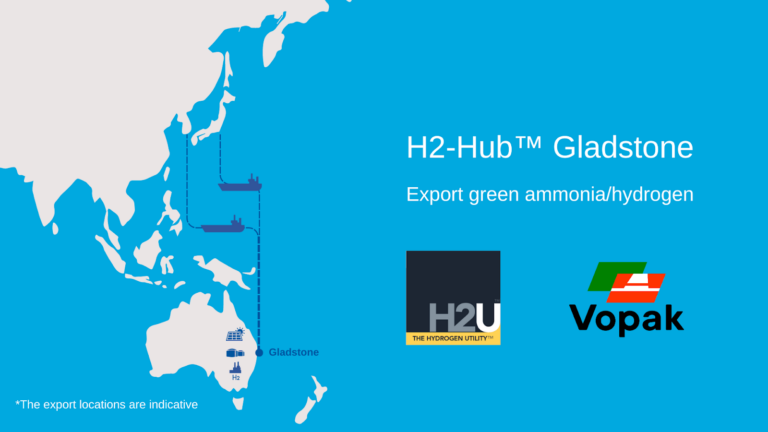 Specifically, the companies will collaborate with existing partners to progress the development of the project, focusing mainly on the export terminal of H2-Hub Gladstone.
According to Vopak, H2-Hub Gladstone is the largest green hydrogen and green ammonia development in Queensland, with 3 GW in planned electrolyser capacity and over 1.7 million tons per year of planned green ammonia production, and it is one of the most advanced export projects on a global scale.
H2U has recently announced strategic collaborations and green ammonia offtake with partners in the domestic and export markets, including Orica Australia, a provider of commercial explosives, Mitsubishi Heavy Industries (MHI), Japan's industrial group, spanning energy, smart infrastructure, industrial machinery, aerospace and defense, as well as Korea East-West Power (Korea EWP), a wholly owned subsidiary of Korea Electric Power Corporation (KEPCO).
In April 2022, H2-Hub Gladstone was declared a Coordinated Project by the Queensland Coordinator-General under the State Development and Public Works Organization Act 1971 and has been issued the final Terms of Reference for an Environmental Impact Statement on 3 February 2023.
Commenting on the new collaboration, Queensland Government Minister and Gladstone MP Glenn Butcher said projects and partnerships like this are propelling Queensland towards becoming a clean energy powerhouse, adding: "This facility is right in line with the Palaszczuk Government's vision for a clean, green future, with the added bonus of hundreds of good, local jobs."
Paul Kanters, Managing Director of Vopak Terminals Australia, said: "This partnership fits well within Vopak's strategic goal to accelerate towards new energies. We are excited to help shape a sustainable future by developing infrastructure solutions for new vital products, focusing on zero- and low-carbon hydrogen, ammonia, CO2, long-duration energy storage and sustainable feedstocks."
H2U Founder and CEO Attilio Pigneri stated that Vopak's experience and presence in "the main industrial and port clusters globally, and within the Asia-Pacific region, brings H2-Hub Gladstone to a unique position to support offtakers in the rapidly growing market for green ammonia exports, including in the power generation and shipping sectors."
Pigneri further said: "H2U and project partners can now work with Vopak and leverage their unique know-how and expertise to progress front-end engineering activities for the export terminal of H2-Hub Gladstone, with a view to supporting existing and future green ammonia offtake partners."
To note, Gladstone, Queensland has been identified as one of seven clean hydrogen hubs across the country in Australia's National Hydrogen Strategy.
In May this year, Singapore-based Keppel Corporation joined the Central Queensland Hydrogen (CQ-H2) project consortium to develop a large-scale green hydrogen project, and it signed a Memorandum of Understanding (MoU) with technology supplier Incitec Pivot Limited (IPL) on an industrial-scale green ammonia production facility in Australia.
Follow Offshore Energy's Clean Fuel: