HaiSea Marine welcomes first electric tugboat for LNG Canada project
HaiSea Marine, a joint venture majority-owned by the Haisla Nation in partnership with Seaspan ULC, has taken delivery of the first of three emissions-free battery electric tugs that will operate at LNG Canada's new export facility in Kitimat, British Columbia.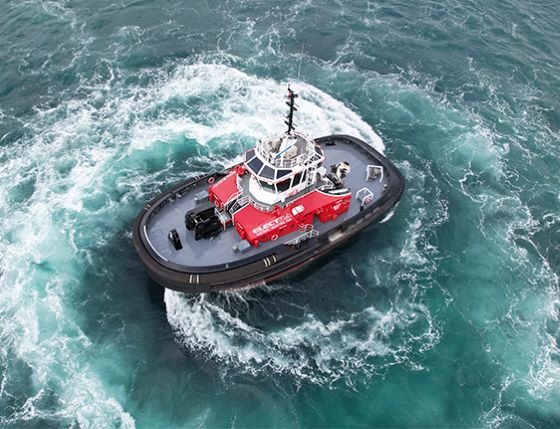 The vessel named HaiSea Wamis was built by Sanmar Shipyards and is the first electric tug to be exported from Türkiye. At the same time, it is the first electric tug in Canada and the first electric tug based on a design by Canadian naval architects Robert Allan Ltd to be completed and delivered.
Construction of the new fleet of tugboats began in 2021, consisting of two RAstar 4000-DF escort dual fuel (LNG and diesel) tugs and three ElectRA 2800 electric harbour tugs.
HaiSea Wamis will shortly be joined by the all ElectRA series tugs HaiSea Wee'git and HaiSea Brave as part of the five-tug deal with HaiSea Marine, which also includes the LNG-powered tugs HaiSea Kermode and HaiSea Warrior, Canada's first LNG tugboats.
Measuring 28.4 metres in length, with a moulded beam of 13 metres and least moulded depth of 5.60 metres, the ElectRA 2800SX electric harbour tugs have 6.000 kWh of the battery storage system, and achieve 70 tonnes of bollard pull. The three electric tugboats will perform all their ship berthing and unberthing missions on battery power alone, the shipbuilder said.
With ample clean hydroelectric power available in Kitimat, the harbour tugs will be able to recharge from dedicated shore charging facilities at their berths between jobs, effectively resulting in them achieving the sustainability dream of zero emissions.
According to the latest updates, the LNG Canada project, a joint venture of Shell, PETRONAS, PetroChina, Mitsubishi Corporation and Korea Gas Corporation, is advancing works at its tug berth facility which will support HaiSea Marine's new fleet.
Ali Gurun, Chairman of Sanmar Shipyards, said: "The delivery of HaiSea Wamis marks a major stride forward along the road to a sustainable, environmentally-friendly tug and towing industry and we are proud to be leading from the front, working closely with our partners to put innovative ideas into action through technological advance. The significance of this project is huge, not just for us, but for the industry that we work in as a whole."