Holland Shipyards wins deal for electric ferry duo
Holland Shipyards Group has won a contract for the delivery of two fully electric ferries from Norwegian ferry company Boreal.
The vessels are planned to be put into operation on the Abelnes-Andabeløy and Launes-Kvellandstrand routes in the Agder province, Norway.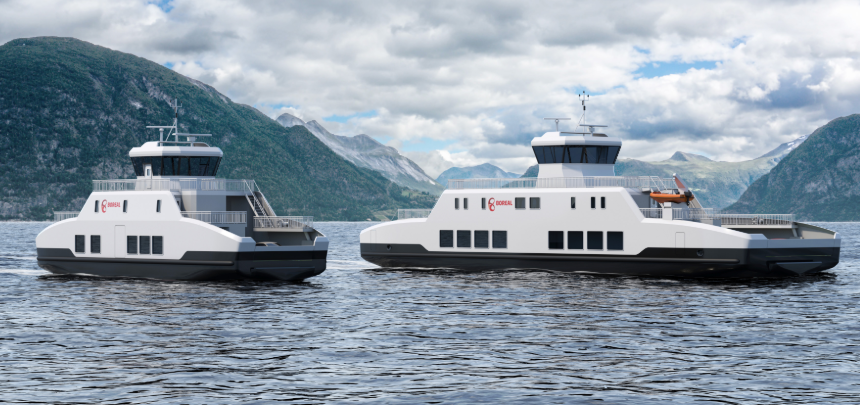 The ferries will measure 49,80 by 14,70 and 29,80 by 10,20 meters and will be able to transport 35 and 10 passenger cars respectively. The total amount of passengers on each ferry will be 146 and 96 persons.
In between trips, shore power will be used to recharge the ferries' batteries, allowing day-round operations on electric power.
For emergency cases, back-up generators are installed, which are capable of running on bio-diesel.  
The design is made by Wärtsilä Ship Design, which has been contracted by Holland Shipyards Group for the Design Package.
‍The vessels are expected to enter service in the second half of 2021.
"The two ferries mark a significant milestone for Holland Shipyards Group, further establishing its dominant position as a high-end ferry builder in Western Europe," the shipbuilder said.
"With an orderbook containing several variations of electrical ferries, the yard is proud to be part of the solution towards a greener future for the maritime industry."
Holland Shipyards has been at the forefront of the shipbuilding sector in building electric ferries. The company secured a contract from Amsterdams municipal public transport provider in March 2020 to build five new fully-electric ferries which will be operating in the North Sea Canal area.
The first ferry is expected to enter service in 2021, the delivery of the last ferry will be in 2023.
In April, the company hosted the keel laying for the second, fully electric, ferry for Schlepp- und Fährgesellschaft Kiel (SFK).
The orders were secured in 2019, as part of the re-generation of the city's passenger fleet to provide zero-emission public transport.