Hurricane Michael shuts 40% of Gulf of Mexico oil output
Hurricane Michael in the U.S. Gulf of Mexico has shut almost 40 percent of the Gulf's oil production.
According to the U.S. authorities, as per Tuesday, workers have been evacuated from 75 offshore production platforms as the operators continued to prepare for the northward movement of Hurricane Michael in the eastern Gulf.
"Based on data from offshore operator reports submitted as of 11:30 a.m. CDT today, personnel have been evacuated from a total of 75 production platforms, 10.9 percent of the 687 manned platforms in the Gulf of Mexico," the Bureau of Safety and Environmental Enforcement (BSEE) said on Tuesday afternoon.
Offshore operators have also evacuated workers from three non-dynamically positioned rigs, and eight dynamically positioned rigs have moved off location out of the storm's path as a precaution.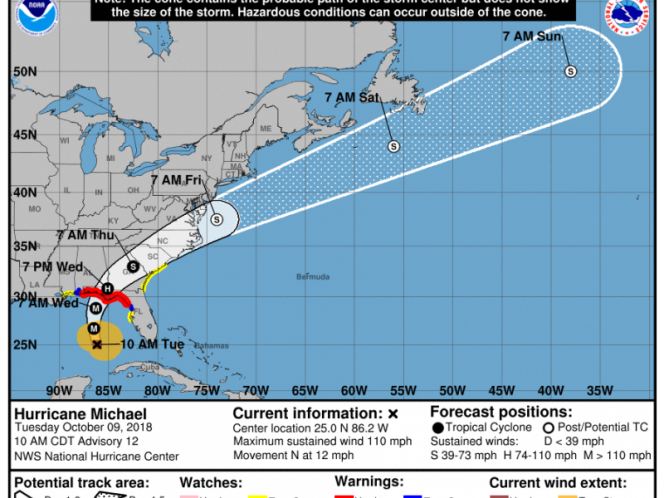 From operator reports, it is estimated that approximately 39.5 percent of the current oil production in the Gulf of Mexico has been shut-in. It is also estimated that approximately 28.4 percent of the natural gas production in the Gulf of Mexico has been shut-in.
BP has said that it has evacuated personnel and has shut in production at BP's four operated platforms, Atlantis, Mad Dog, Na Kika, and Thunder Horse.
"Rigs are also preparing for storm evasion as necessary. BP will continue to monitor offshore conditions to determine when conditions are safe to redeploy personnel and resume operations," BP said in its latest storm update.
Another Gulf of Mexico operator, Anadarko, has shut in its  Horn Mountain and Marlin platforms, and all workers have been removed.
"We will only return our people when the weather has cleared and it is safe to do so. At this time, other Anadarko-operated and producing platforms remain staffed and operational as we continue to watch the weather conditions," Anadarko said on Tuesday.
Offshore Energy Today Staff