In-stream tidal giant connects to Nova Scotia power grid
Two days after touching the Canadian seabed in the Bay of Fundy – the 2MW tidal turbine, deployed by Cape Sharp Tidal, has been connected to the Nova Scotia electricity grid.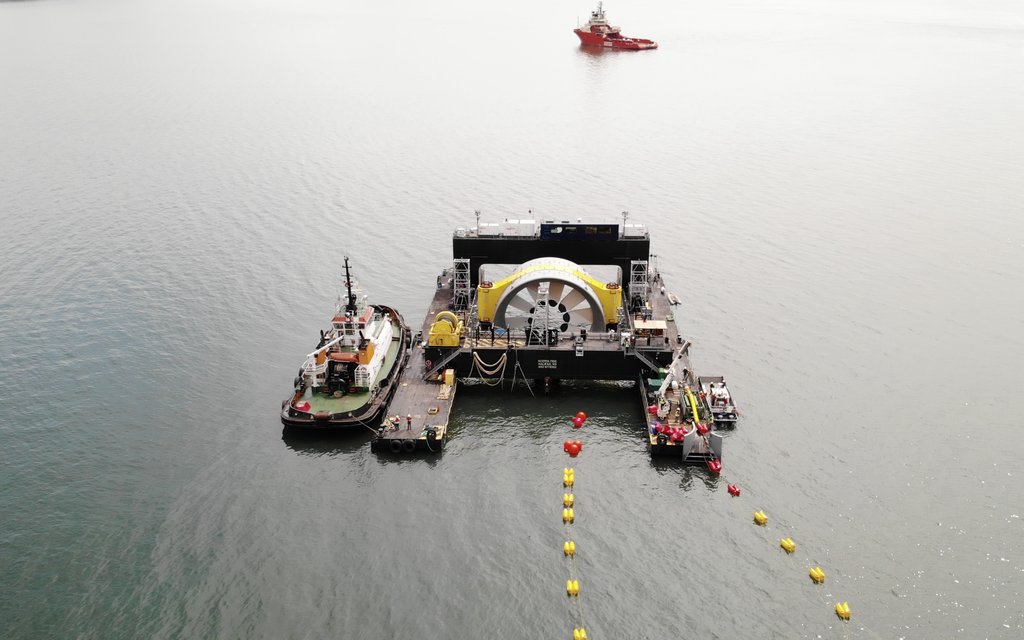 The turbine, plugged into the grid on July 24, 2018, is now undergoing initial commissioning in Minas Passage, at the Fundy Ocean Research Center for Energy (FORCE) site, with operational and environmental monitoring device testing being conducted by the OpenHydro team.
This is the second grid-connected tidal turbine to be deployed in the bay by Cape Sharp Tidal after the similar feat was achieved with the first demonstration turbine in November 2016.
After the retrieval of the first device in June 2017, the project team has over the past year worked to apply lessons learned from the previous deployment, according to Cape Sharp Tidal  – a joint venture created by OpenHydro, a Naval Energies company, and Nova Scotia-headquartered energy firm Emera.
The team conducted upgrades to the turbine technology in order to improve the operating efficiency of the turbine, making also additional improvements to the environmental monitoring program.
Christian Richard, Cape Sharp Tidal Director, said: "We believe the renewable energy potential of the Bay of Fundy can be harnessed using in-stream tidal technology. As our work continues to advance, our knowledge and experience will be critically important to advancing this industry for Nova Scotia and the world."
The deployment and grid-connection is part of a two-turbine 4MW demonstration project at Canada's leading research center for in-stream tidal energy – FORCE.
"This work isn't possible without the expertise of marine operators, researchers, and countless Atlantic Canadian businesses.
"We're pleased to be able to continue the important research to understand how tidal turbines interact in the Minas Passage environment," Tony Wright, General Manager of FORCE, added.