Incat Crowther to design electric hybrid ferry for Auckland-Devonport route
New Zealand's Auckland Transport has announced that shipbuilder Incat Crowther has been commissioned to deliver the design for a new 300-passenger electric hybrid fast ferry.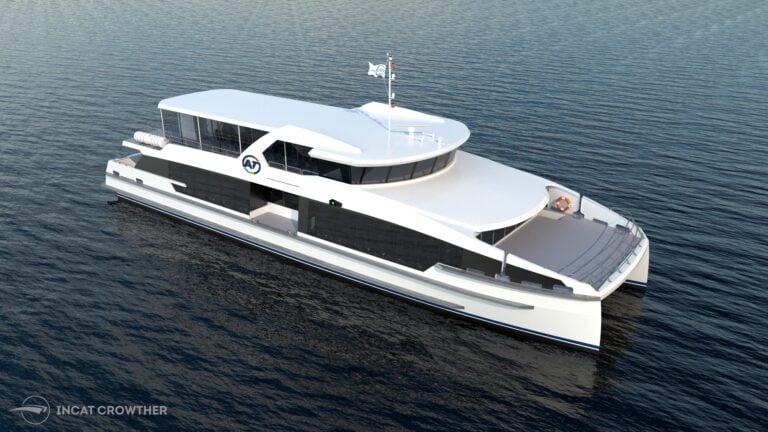 Specifically, the project will see Incat Crowther work closely with Q-West Boat Builders, Hamilton Jet and Fullers360 on the design, construction and delivery of the 32-meter vessel.
According to Incat Crowther, the vessel, which is the second of its kind, will provide an efficient, low-emission, quiet service between Auckland and Devonport. To note, it will be designed specifically for this route.
The vessel's cabin is described as modular, with the main deck configured for metro operations and overflow capacity to the upper deck.
Q-West Chief Executive Colin Mitchell noted the new vessel will likely be completed in Q-West's new facility at the Whanganui Port where the company will be able to maintain and repair ferries and other commercial craft.
Auckland Transport's Program Director for the Low Emission Ferry Program Nathan Cammock commented: "As part of Auckland Transport's Mission Electric, we are investing in low-emission public transport right across our network. Our trains are electric, all new bus purchases will be electric, and now ferries will be too."
"Our new low-emission ferries have greater passenger capacity, improved accessibility and a more consistent customer experience compared to our current fleet. With significantly more space for bikes, it will make it easier for people to cycle at either end of their ferry trip."
Incat Crowther Technical Manager Dan Mace said: "The Incat Crowther 32 design is customer-focused and offers operational flexibility and efficiency. Digital shipbuilding technology has been utilized to accurately and reliably integrate the electric drive system into the vessel. This solution is fully tailored to the operation."
Click here to read more about clean fuel projects in New Zealand.
Follow Offshore Energy's Clean Fuel: