K Line and Anglo American initiate collaborative decarbonisation research
Japanese shipping company Kawasaki Kisen Kaisha (K Line) has teamed up with UK-based mining company Anglo American to start collaborative research on decarbonisation.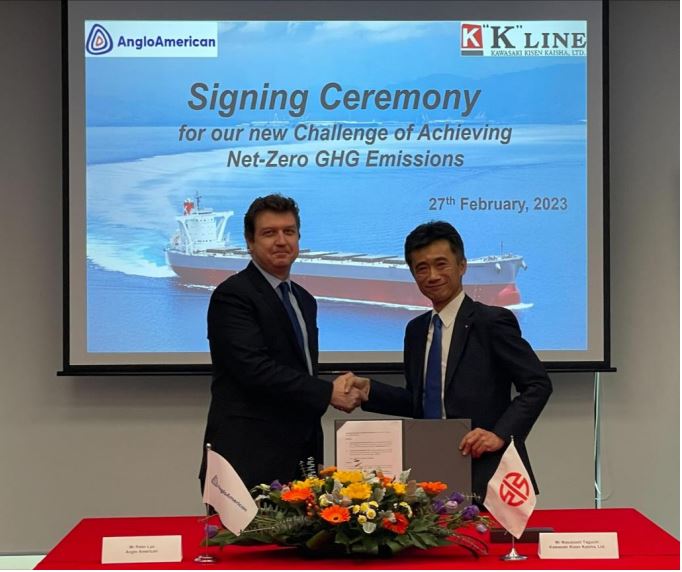 To this end, the companies have signed a memorandum of understanding (MoU) regarding the establishment of a working committee for collaborative research.
K Line, which has been engaged in the seaborne transportation of raw materials for Anglo American, agreed to collaborate with the latter through the sharing of research and ideas and the utilisation of both parties' knowledge of new marine technology, alternative fuels and other fields that have the potential to grow in the future to achieve their common goal of net-zero greenhouse gas (GHG) emissions.
At the beginning of the last year, K Line revealed plans to have zero-emission vessels by 2030 and later on, in May 2022, defined the marine transportation business using coal and iron ore carriers as one of its top priority areas driving growth in its Medium-Term Management Plan.
The company also formed a similar partnership with Indian steel producer JSW Steel focused on establishing the working committee for collaborative research on decarbonisation.
On the other hand, Anglo American has set an ambition to achieve carbon neutrality across its controlled ocean freight activities by 2040, with an interim 30% reduction in emissions by 2030.
The mining company recently welcomed the first LNG dual-fueled newbuild to its chartered fleet which will grow to ten vessels during 2023 and 2024, delivering an estimated 35% reduction in CO2 emissions compared to ships fueled by conventional marine oil fuel.
The 190,000 dwt vessel named Ubuntu Harmony, which is chartered from Taiwanese bulk carrier company U-Ming Marine, loaded its first cargo of iron ore from Anglo American's Kumba operations in South Africa on 26 January, a month after its delivery.