LNG-powered Icon of the Seas gearing up for sea trials
Icon of the Seas, Royal Caribbean International's first LNG-powered cruise vessel, is scheduled to commence sea trials in mid-June.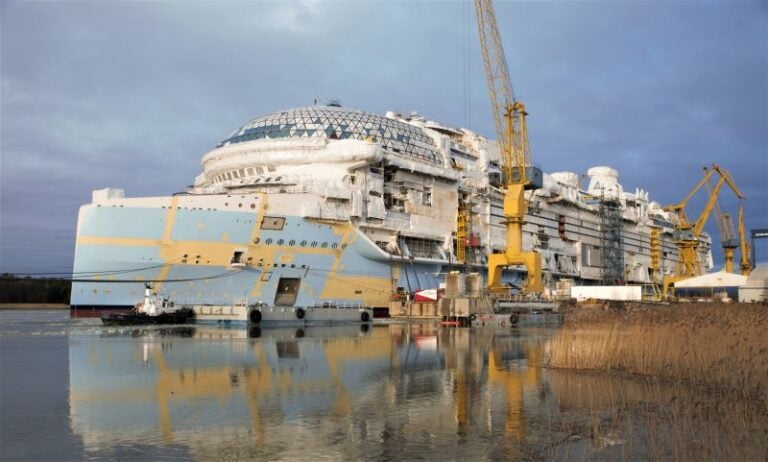 According to Meyer Turku, the shipbuilder of what is expected to be the world's largest and most technically advanced cruise ship, the construction is progressing at a good pace and preparations for her sea trials have already started.
"As the world's largest prototype ship, Icon's early sea trials are important to ensure that all the ship's main equipment such as propulsion equipment, main engines and power plant, thrusters and fin stabilizers are working as they should", Meyer Turku said in a social media update on 5 May.
The Finnish shipbuilder started construction on the Icon of the Seas in June 2021 and installed an LNG fuel tank in November 2021.
The ship was launched on 9 December 2022 and moved to the outfitting dock. Icon of the Seas is Royal Caribbean's first ship that runs on LNG and utilizes fuel cell technology. The vessel will also feature shore power connections and waste heat recovery systems. Furthermore, it will have air lubrication of underwater hull, sending millions of microscopic bubbles along the hull of the ship to reduce friction.
It will run on six Wärtsilä main engines that can use both diesel and natural gas fuel. In March this year, the first of them was started, marking a significant milestone in this shipbuilding process.
Icon of the Seas will be handed over to the customer at the end of 2023 and will set sail on its first voyage in January 2024. The ship will cruise from Miami year-round in the Eastern and Western Caribbean.
365 metres long, almost 50 metres wide and with a gross tonnage of approximately 250,000, Icon of the Seas is the first ship in the Icon series out of three on order at Meyer Turku. The two remaining ships are scheduled for delivery in 2025 and 2026.